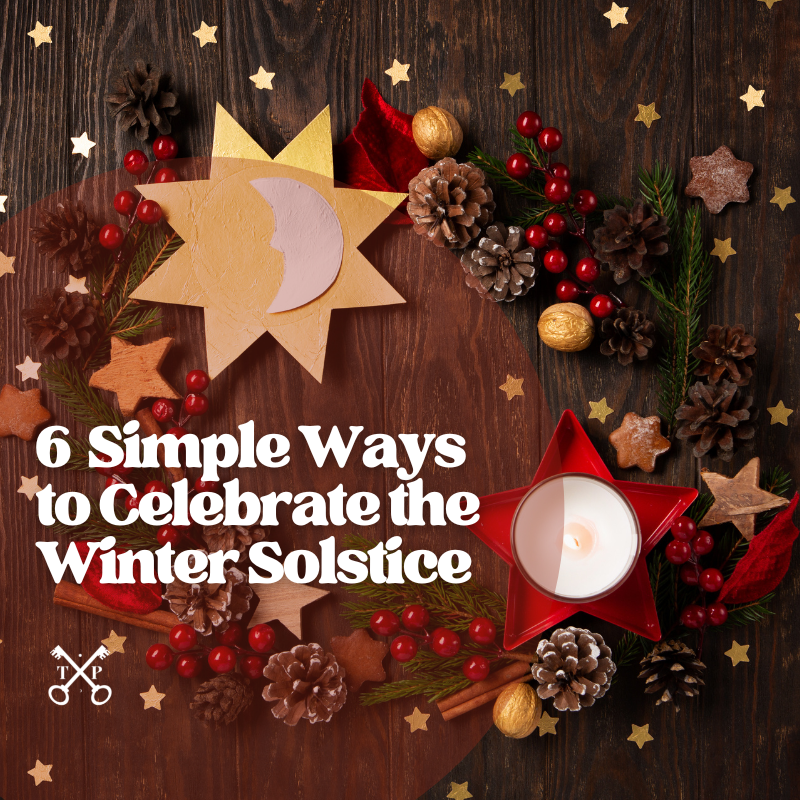 [This post contains affiliate links, which means that I may earn a small commission at no extra cost to you if you follow one of my links and make a purchase.]
If you're wondering how to celebrate the Winter Solstice (or perhaps even why we should celebrate it), this post is for you. Here are six Winter Solstice celebration ideas for you to try this year.
What is the Winter Solstice, or Yule?
In the Northern Hemisphere, December 21st is the Winter Solstice, also known as Yule in pagan and witchy circles. It's the first day of winter and also the longest night of the year.
Put another way, the Winter Solstice marks the darkest, or shortest, day of the year right before the sun is "reborn." In other words, after the Winter Solstice, the nights get a little shorter each day and the days get a little longer as we head toward spring.
Why Celebrate the Winter Solstice?
Winter Solstice, or Yule, celebrations focus on the promise of the coming light. So why do we celebrate it? Because Yule is a time of hope and understanding that the world is darkest just before the light. It's a lovely reminder that if we hold on, light and joy are on their way to us once again.
Yule is also known as the Sun's birthday. In fact, it's no coincidence that Christians celebrate Christmas, or the Son's birthday, right around Yule. Cool, right!? Both holidays celebrate the coming of hope and salvation at the darkest time of the year.
In fact, can we talk about the lyrics of one of my favorite Christmas hymns, O Holy Night, real quick and how that song is basically a Yule song?
A thrill of hope, the weary world rejoices,

For yonder breaks a new and glorious morn!
How to Celebrate Yule, or the Winter Solstice
Here are six simple and beautiful rituals to help celebrate the reflection and introspection that winter invites into our lives as well as the hope and joy that lie ahead.
If you're wondering how to celebrate Yule, the ideas below will get you started.
(Related: 9 Ways to Celebrate the Fall Equinox)
1. Reflect on the past year with your tarot cards
The Winter Solstice is the last major milestone, or sabbat to some, of the calendar year. So, when celebrating or recognizing the Winter Solstice, ideas around reflection and looking back on the year are quite fitting.
When I was younger, I'd forge ahead into the new year with all sorts of ambitious and lofty goals and ideals without pausing for even a second to recognize how I had grown or evolved the previous year. It was just "Good riddance" and on to the fresh, new start!
But now, I always make sure to do an end-of-year reflection in my journal. In fact, I now use my tarot cards to help me go deeper.
(Related: How to Read Tarot Cards for Yourself)
Below is a special Winter Solstice Tarot Spread I created. I think it's beautiful for these "in-between" weeks before the new year.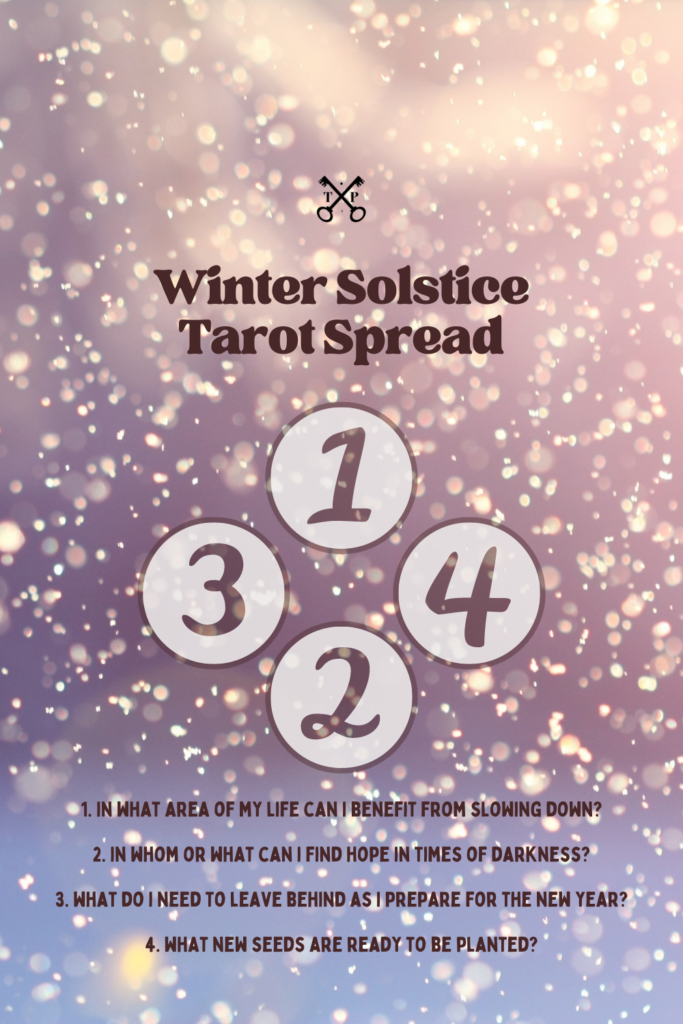 [Related: Reflect on 2022 Tarot Spread]
2. Decorate your front door with an evergreen wreath.
Evergreen, as a plant that withstands even the snowiest of winters, represents everlasting life. Since a circle is also an everlasting or infinite line that never breaks, a classic Yule decoration is the evergreen wreath.
Yup, this is where Christmas wreaths come from!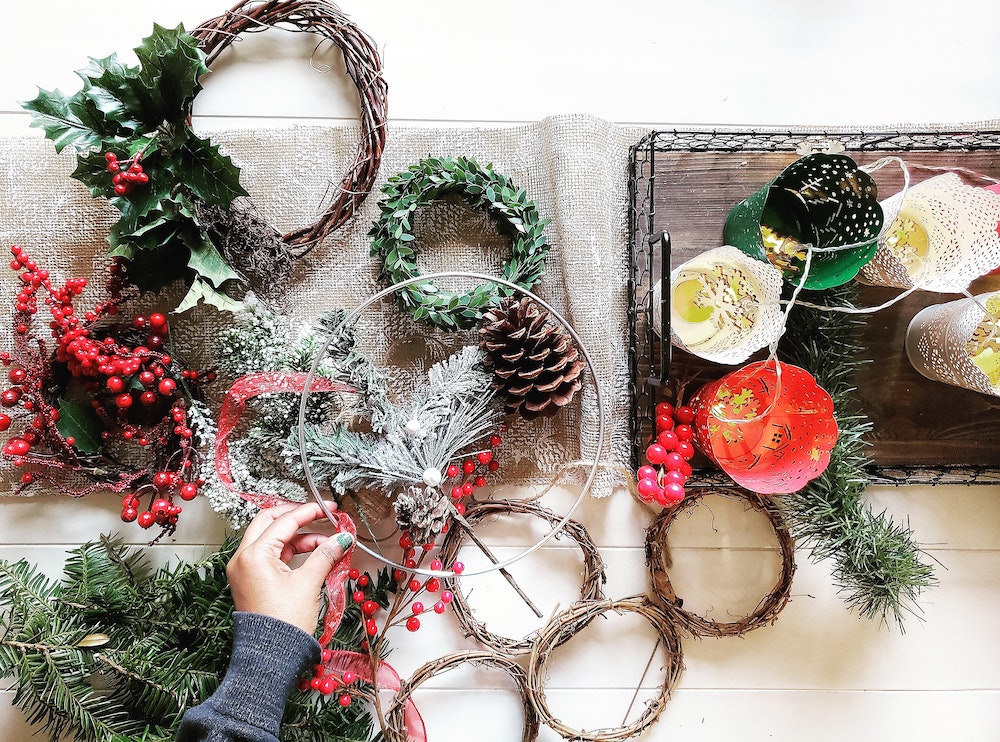 If you are the crafty type, you can create your own fresh evergreen wreath.
If you are less crafty, you can always purchase one and jazz it up yourself with dried orange slices, pine cones, holly berries, ribbons, or some tiny Christmas ornaments.
[Related: How to Cleanse a Space with Sage]
3. Light a Yule log, or watch one on Netflix!
Ancient Druids began the tradition of lighting a giant Yule log that burned for twelve days to combat the darkest time of the year. Now, of course, lighting a fire in the fireplace is just a fun winter tradition, and I'm here for that.
Make a big to-do over lighting a fire (perhaps the first of the season?) and gather around to watch your favorite holiday movie or have some cozy holiday drinks, like cider or cocoa (or a double martini, I'm not here to judge). And if you're celebrating the Winter Solstice with kids, a family puzzle or game night sounds like lovely quality time together.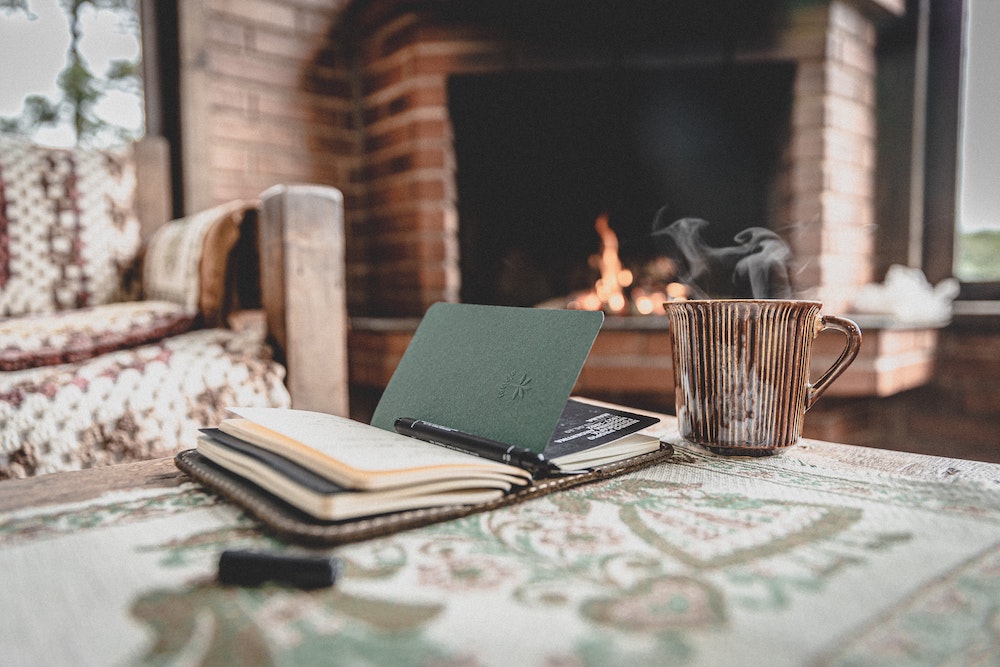 Or, indulge in a lovely quiet evening of solitude. Enjoy some alone time to write or read in silence next to a cozy fire. Your Winter Solstice rituals can look however you want!
Finally, if you're a chimney-less apartment dweller like me, have no fear! Netflix has us covered. Just search for "Fireplace For Your Home" on Netflix and you'll get a crackling fireplace scene on your screen set to some holiday tunes. Honestly, with the lingering 80-degree days we are having in Los Angeles, this might be the best option even if you do have a real fireplace, depending on where you are!
4. Opt for candle light.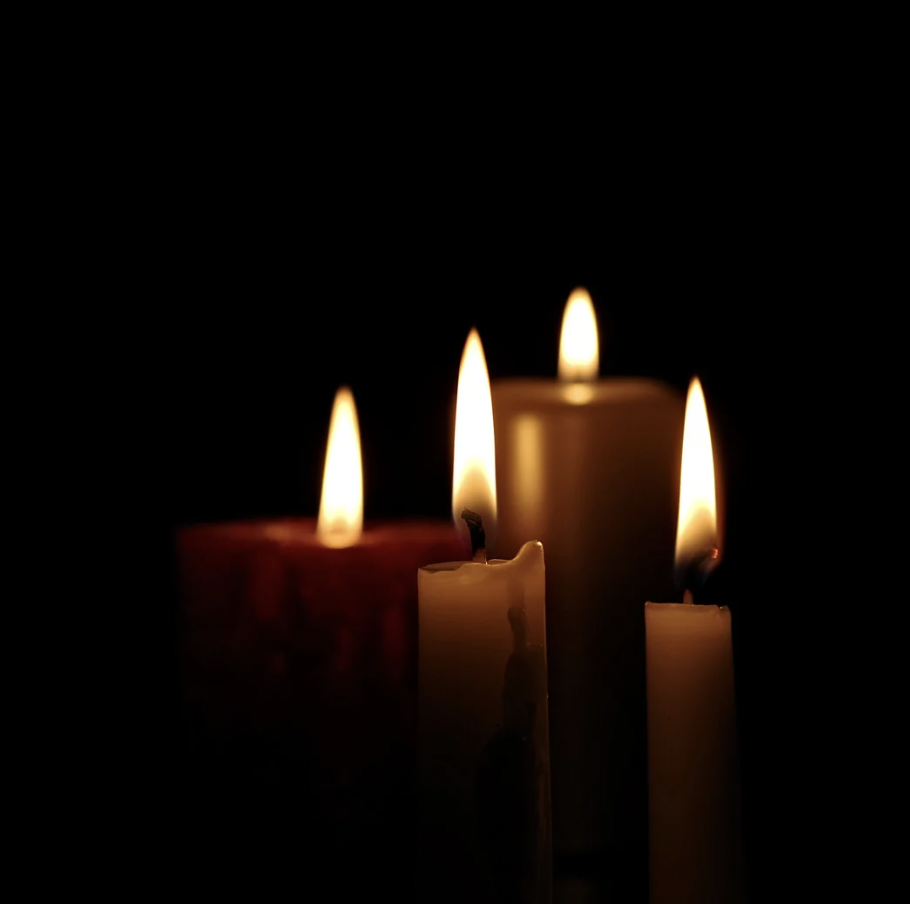 Celebrate the darkness of the longest night of the year by turning out the lights and using just candles. A warm, almost spooky glow will feel romantic, cozy, and festive but still honor the darkness of the winter. We are all so caught up in productivity and escapism these days. The Winter Solstice is a wonderful opportunity to go off the grid for a bit and tune back in with the natural cycles and rhythms of our planet.
5. Watch the sun rise the day after the Winter Solstice.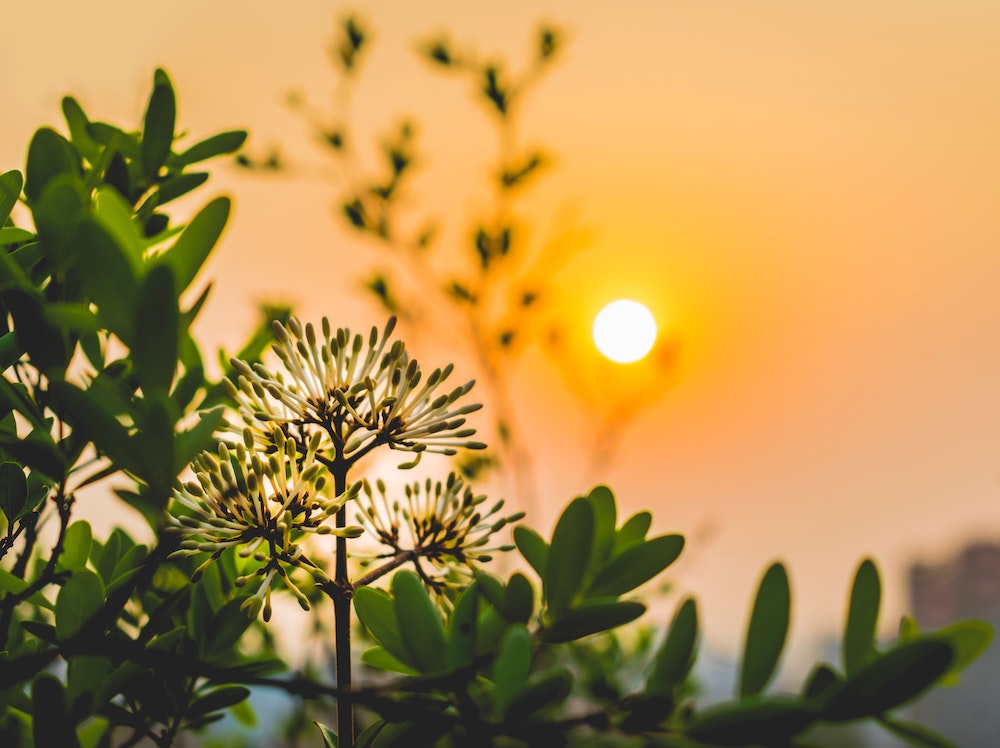 Here's another song that makes a perfect Yule theme:
Little darling, it's been a long, cold, lonely winter.
Little darling, it feels like years since it's been here.
Here comes the sun!
Why are the Beatles the perfect soundtrack for your Yule celebration? Because Yule marks the sun's birthday. And since the Winter Solstice is the darkest day of the year, the very next sunrise officially begins the season of longer, brighter days.
Getting up early to watch that first sunrise after the solstice is such a magical way to celebrate the birth of hope and light. Pour some coffee to go and head to your favorite east-facing spot. Bask in the sun's rays and really let its warmth and reassurance wash over you like a loving hug.
And man, I need this right about now after the year we've had!
6. Fine, sleep in. But wake up with some sun salutations.
If you are not even remotely a morning person, you can greet the sun at whatever time you wake up. Try some sun salutations, a basic yoga sequence that is a great way to get your blood and energy flowing in the morning.
Below is how to do a sun salutation.
No matter what holidays you celebrate this year, I hope these Winter Solstice ideas inspire you to align with nature a bit more and make room for the natural cycles of the universe in your existing holiday traditions.
Let me know which ways to celebrate Winter Solstice and Yule speak to you the most. Or, what Winter Solstice rituals or Yule traditions would you add to this list? Let me know in the comments below!