[This post may contain affiliate links. This means that I may earn a small commission at no extra cost to you if you follow one of my links and end up making a purchase.]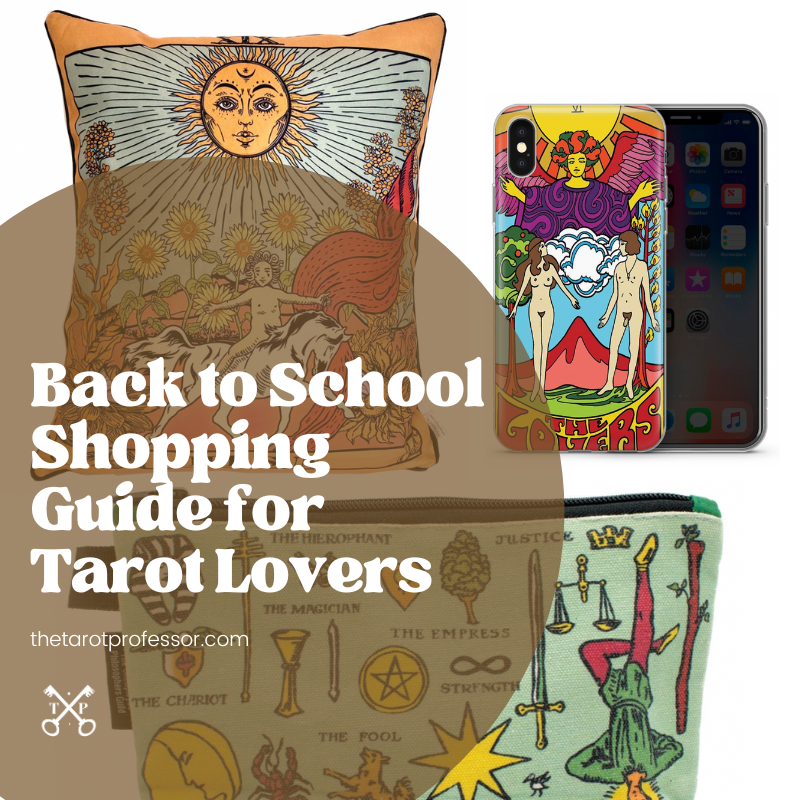 School supplies for tarot lovers? I thought you'd never ask! Let's go back to school (or back to college) shopping, but make it tarot.
Do you share my love for school supplies?
I was a huge nerd growing up, so honestly, the best part of summer was toward the end when I could go back to school shopping. Is there anything more invigorating than brand new school supplies? The promise.  The potential. The color-coordination.
And same deal goes with college supplies by the way. Back to college shopping was even more exciting because it included college dorm room essentials along with some back to school fashion finds I was so excited to pack with me for the drive back to school. Those were the days, am I right?
Now, as a college professor, I am still all about highlighters and dry-erase markers galore. But I'm also a tarot writer. So, I am combining my two loves to bring you a very special BACK TO SCHOOL SHOPPING LIST: TAROT EDITION.
Let's dive right in, shall we?
Tarot Themed Bags to Hold Your School Supplies (and more!)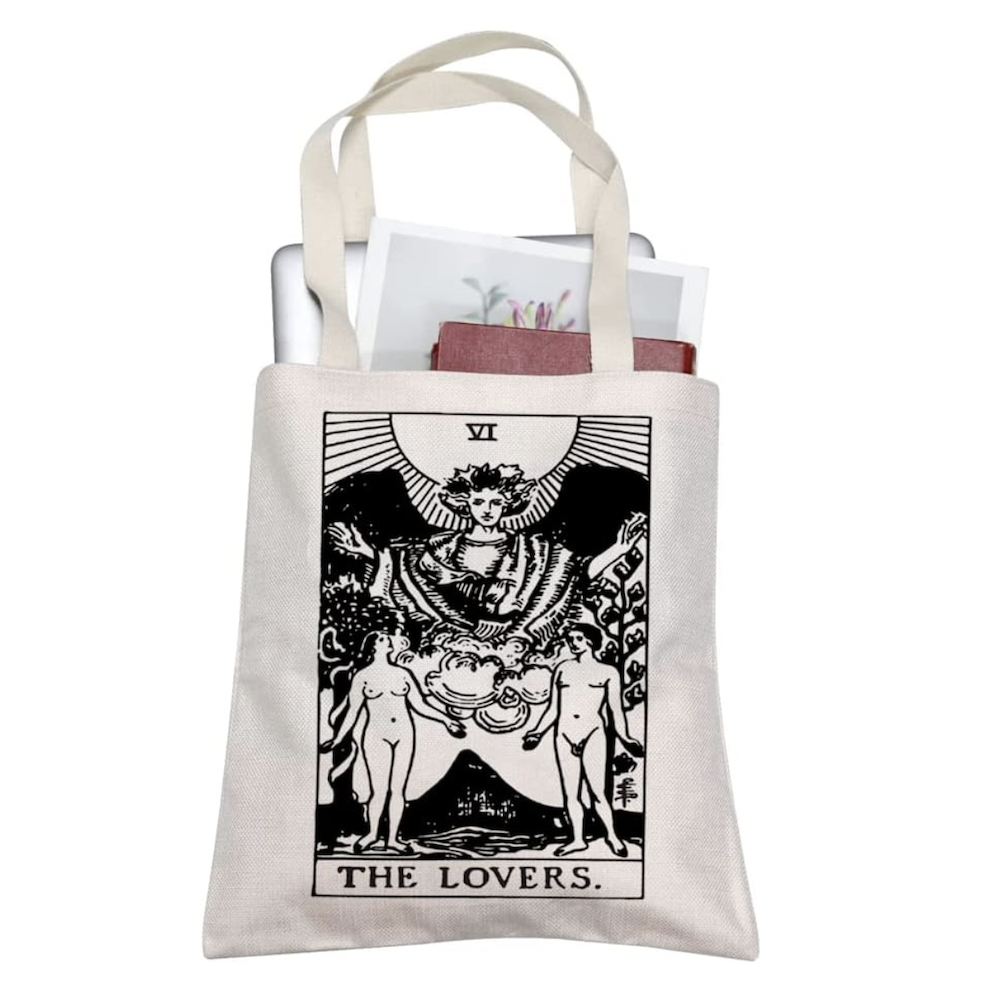 I love a good tote bag, and this Lovers one on Amazon comes in a crisp, clean white Canvas. Also check out this Moon tarot card tote bag as well as this Tarot and Tea tote bag for cute alternatives for your book bag needs.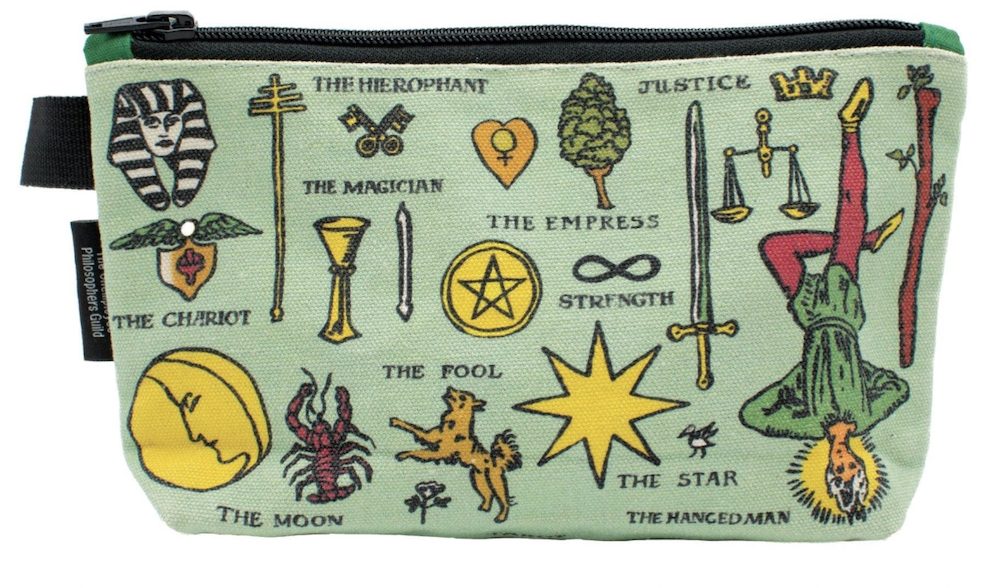 The downside of tote bags, of course, is that they are just one big compartment. I don't know about you, but I need pouches to organize my smaller items like pens or makeup. This tarot pouch by Philosophers Guild is my most favorite recent purchase!
And finally, for a more high fashion yet still mystical choice, how adorable is this line of Rebecca Minkoff celestial cross-body handbags?
Tarot Themed Notebooks and More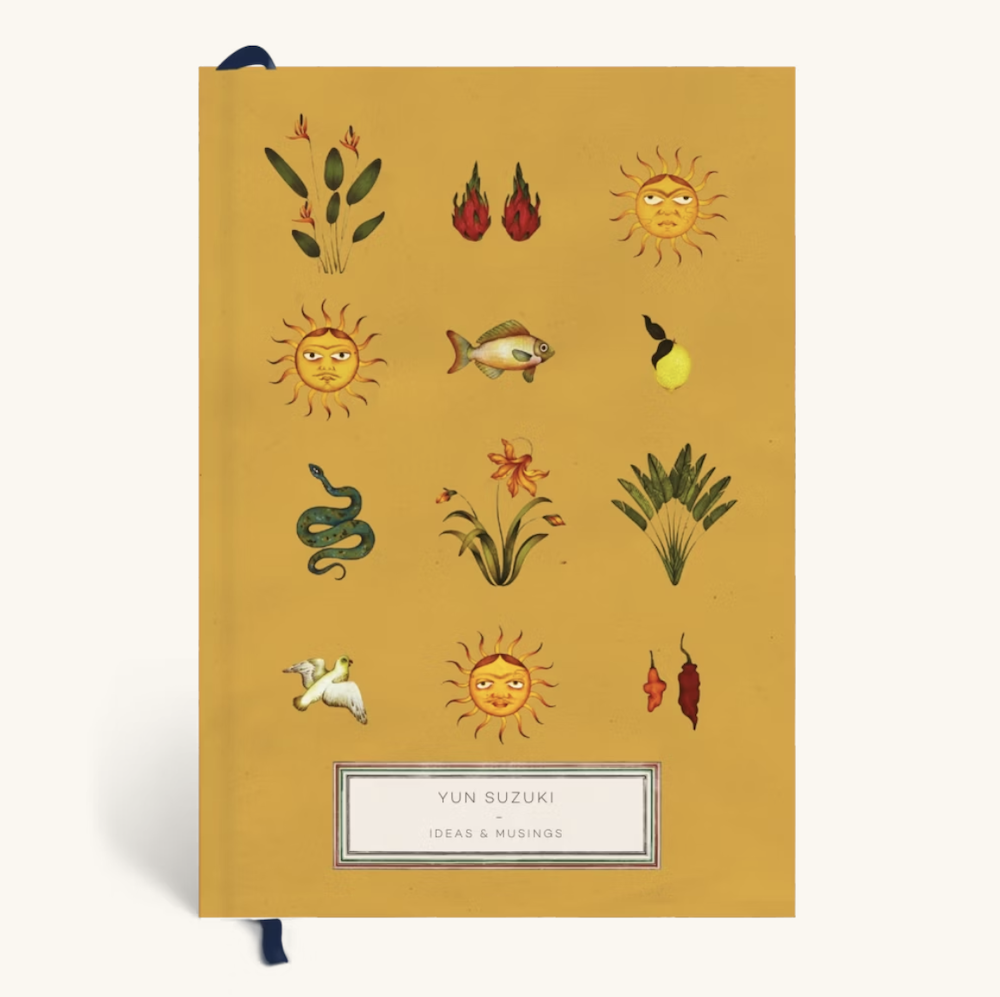 I pretty much never met a notebook or journal I didn't like. And although this Sun Life hardcover notebook by Papier isn't exactly tarot-themed, the symbols and style of the cover definitely give off mystical symbol vibes that I love.  If this one is too modern or fancy, you'll love this classic composition notebook with the vintage tarot and astrology cover.  Plus, it's college ruled!
We can be so particular about our notebooks, so here's a spiral bound notebook with pages that lay flat and a super college-appropriate "The Coffee" tarot card illustration on the cover.
Tarot Themed Tech Cases
I realize I am in an ever shrinking minority with my love for notebooks. Most of my students bring a laptop to class or insist on taking notes on their phones!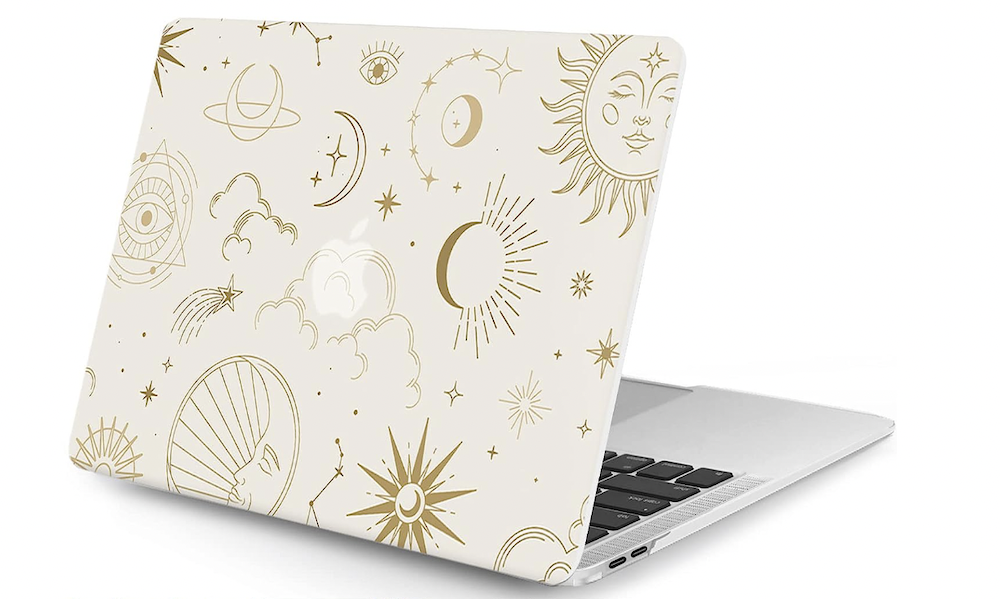 This white and gold celestial Macbook Air protective case is so pretty. There's a darker, more holographic color scheme available too as a Macbook Pro case. And of course, let's not forget our phone cases!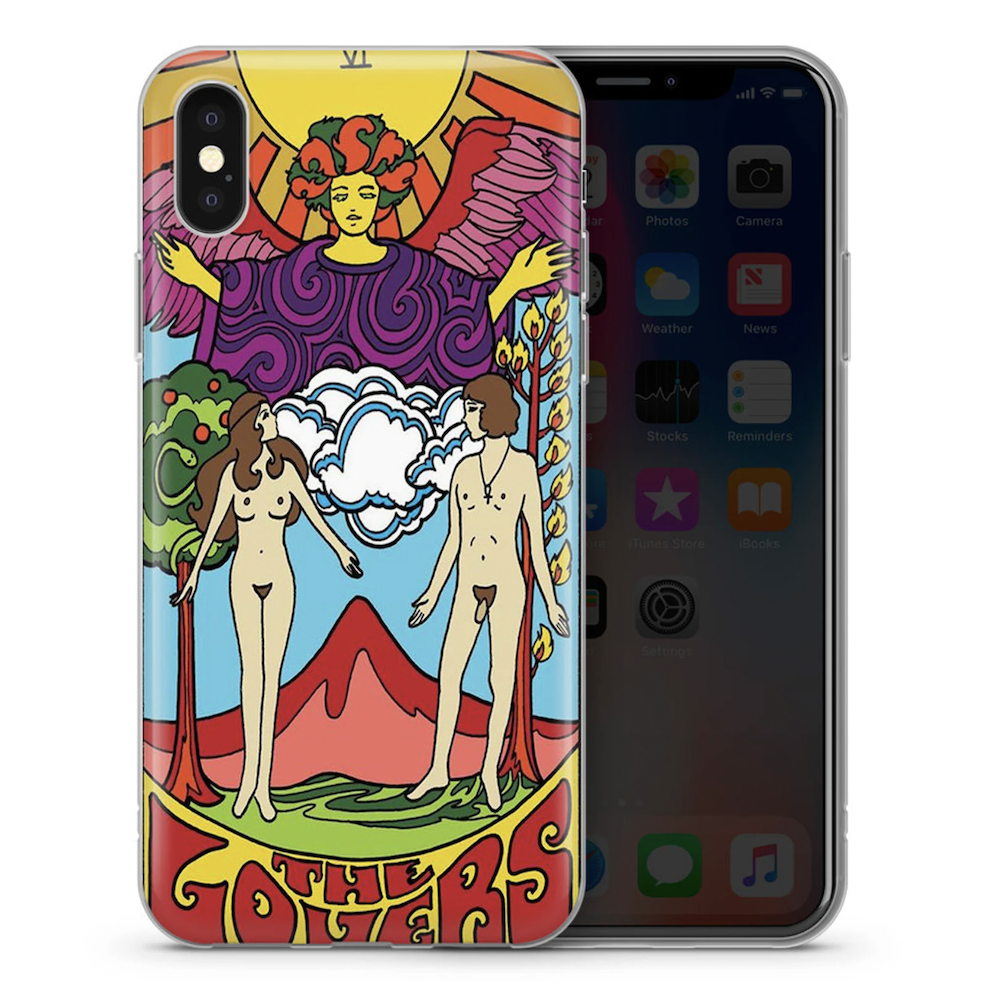 I love this psychedelic Lovers tarot card phone case by Lebelier on Etsy. Plus,  it looks like it comes in all sorts of sizes for more models of phone than I've ever heard of!
[Related: The Difference Between the Lovers and the Two of Cups Tarot Cards]
Tarot Themed Dorm Room Decor
Back to school shopping for college supplies includes college dorm room essentials. From the shower caddy to the perfect headphones, college students need things just so at the start of a new semester or quarter. But the super fun back to school shopping for me was college dorm decor!
Even though I'm not a college student, I am actively trying to find wall space in my home for these gorgeous tarot posters by SmoothNoon on Etsy. I can't get enough of its retro color scheme! I think a panel of three in a row over a bed headboard or a sofa would look amazing, personally.
[Related: Two Tarot Spreads Inspired by The Star and Aquarius Season]
If these are a little too soft or pink for you, these Tyler the Creator tarot posters (yes, you read that correctly) might be perfect for your decor aesthetic instead! Here's a more monochrome, vintage style tarot print as well. I offer variety for all of your dorm room and adult home decor needs!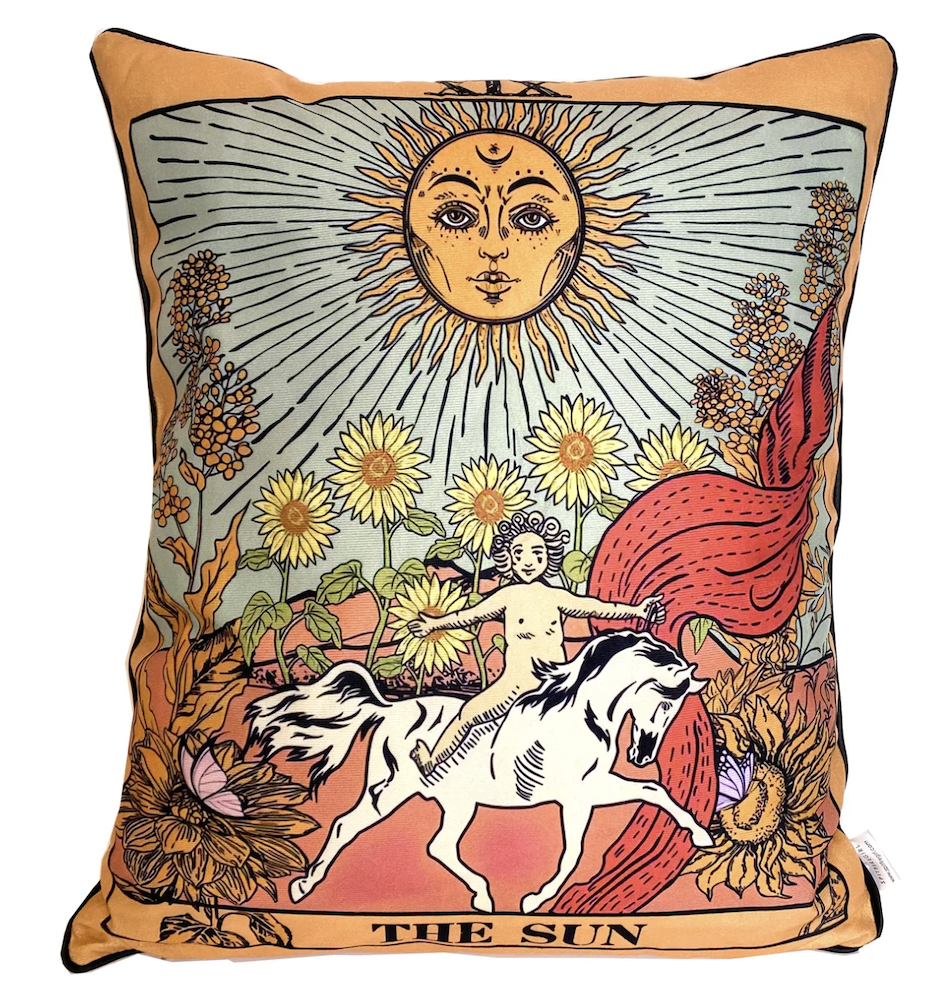 Walls aren't the only thing to think about when it comes to back to school home shopping. Creating an inviting and cozy study space is also essential. That's where this bright Sun Tarot Card Throw Pillow by Spitfire Girl comes to the rescue.
Tarot Themed Fashion for Back to School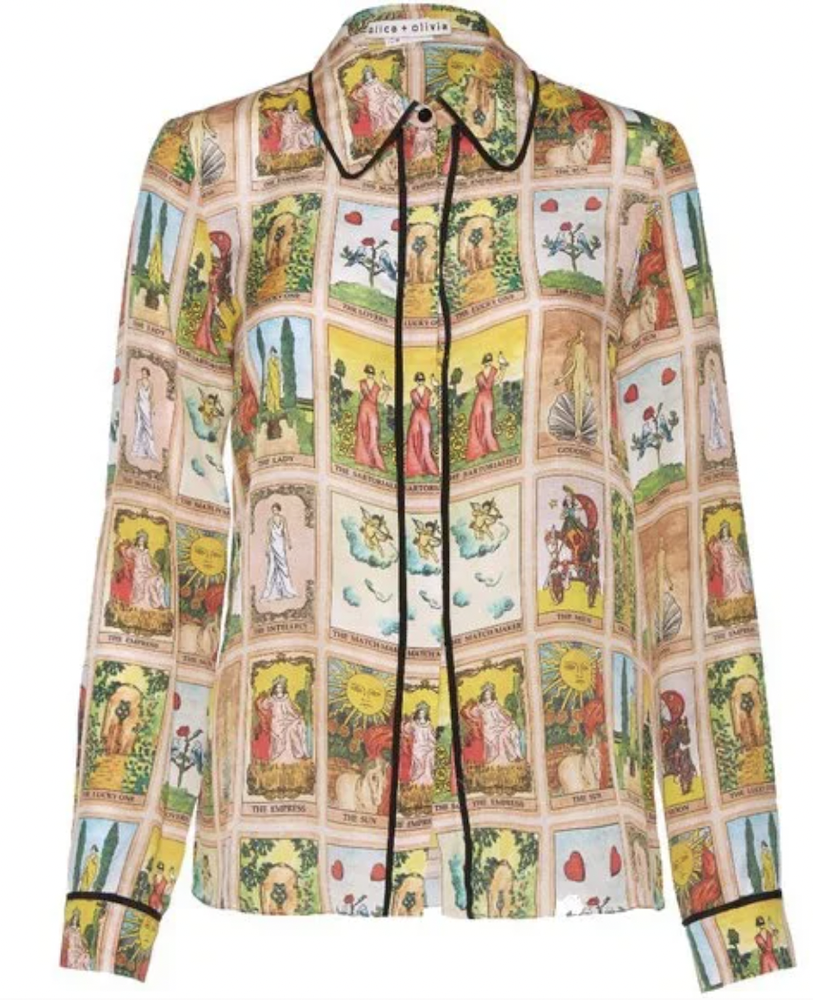 Okay, so I wasn't exactly purchasing designer clothes when I was a student, but can we just all drool over this Alice + Olive tarot print silk blouse together please? I spotted this for sale on Poshmark! Alice + Olivia designed a gorgeous astrology print blouse too, which deserves an honorable mention here.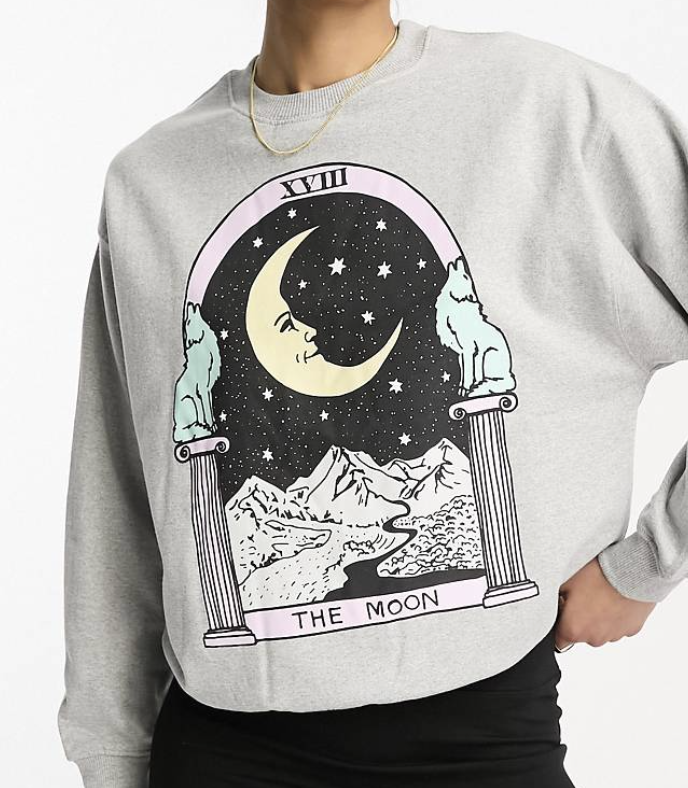 For perhaps a more practical pick for college style, this Moon tarot card graphic sweatshirt on ASOS is perfect for tarot lovers of all ages. And as a Pisces, this sweatshirt immediately went to the top of my back to school fashion wish list!
Tarot jewelry is really special to me. I adore the Moon tarot necklace my husband bought me for my birthday. So I'm always on the look out for other beautiful tarot jewelry to recommend to fellow tarot lovers.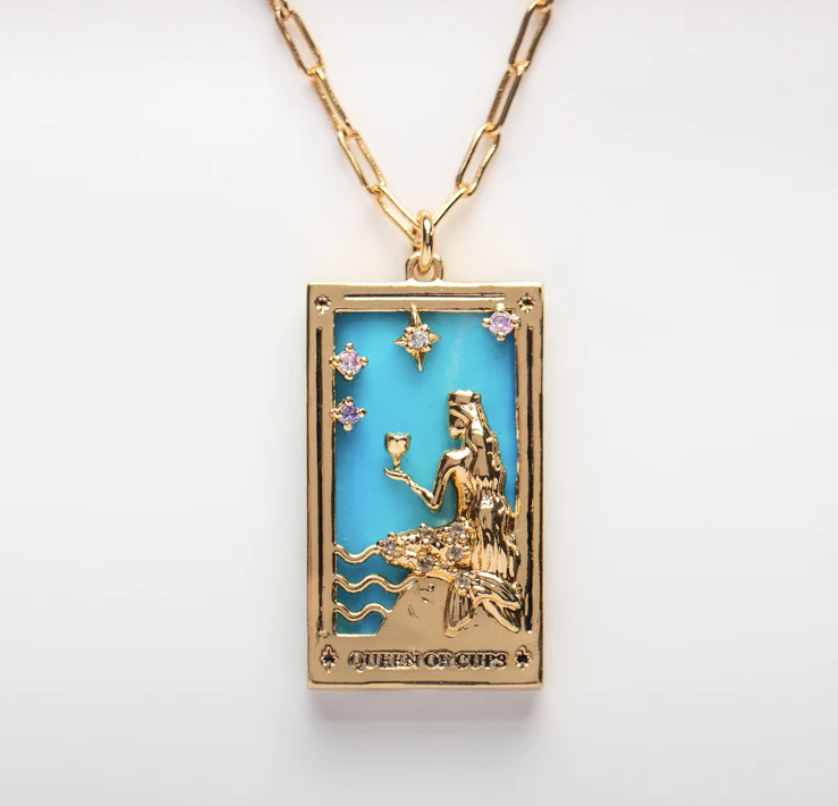 This Queen of Cups tarot necklace by Tai Jewelry is stunning. I know this is a back to school style guide, but this necklace would be such a fantastic birthday gift for a tarot lover who also happens to be a water sign – just saying.
And finally, one of my favorite places for some creative self-expression is on my keychain. This keychain does double duty as it is actually a complete and super tiny Universal Waite tarot deck! Just perfect for all those times on the go you found yourself wishing you had a tarot deck on you!
[Related: You Finally Got a Tarot Deck! Now What?]
Are you going back to school? College? Starting a new job perhaps? Or just spicing up your home office space or your fall wardrobe? Let me know!