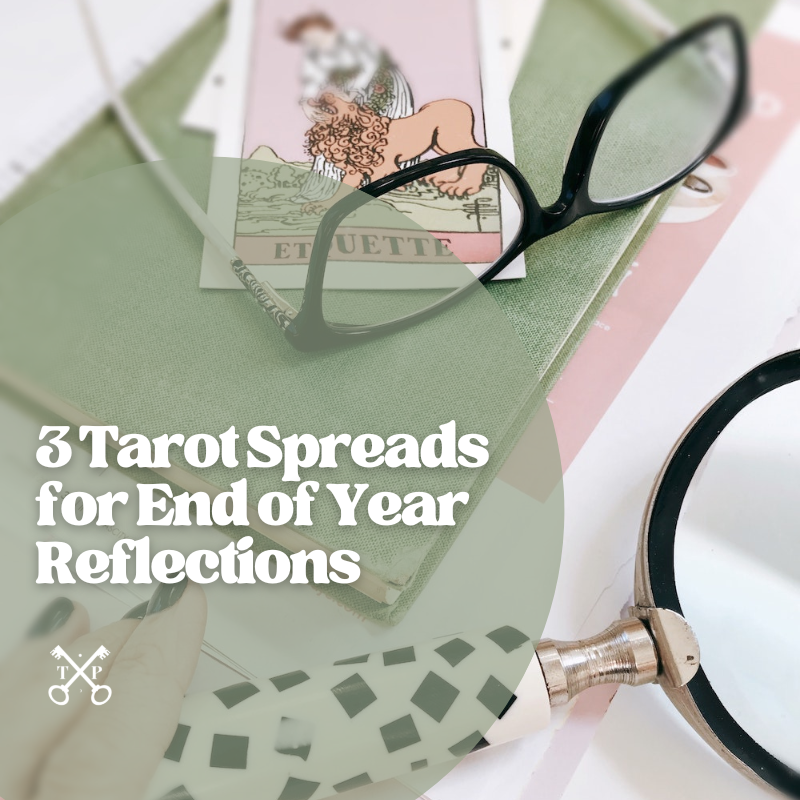 I love a fresh start as much as the next girl. But before we dive head first into the new year, an end of year reflection is in order. In fact, tarot cards are the perfect tool for this end of year self-reflection.
Here are three tarot spreads to help you reflect on this past year and set yourself up for more success in the year to come.
Why are end of year reflection questions crucial?
When I was younger, I'd forge ahead into the new year with all sorts of ambitious and lofty goals and ideals without pausing for even a second to reflect on the year. How had I grown or evolved the previous year? What was I going into this new year with (or without)? It was just "Good riddance" (and an unhealthy dose of perfectionism) and on to the much awaited do-over.
But think about it. You need to know where you are to figure out how to get where you want to go. And an end of year reflection allows us to take stock of our starting point before we plan and project for the new year.
What do you have under your belt?
How can you leverage a new strength you developed this past year?
What is an anxiety or pain point that you need to take into consideration instead of just ignoring or repressing?
So now, I always make sure to do an end of year reflection with my tarot cards and my tarot journal.

Don't tarot cards tell the future? Why would you use them to look at the past?
I actually don't believe in the power of tarot cards to tell the future.
Sure, many people use them for divination or cartomancy, but I don't think that's how tarot cards are read most productively. I see tarot as a window into our soul, or a mirror of our true self. So to me, tarot cards are a wonderful self-discovery tool, which means they are ideal for introspection, reflection, and digging deep into our own psyches.
[Related Video: How Does Tarot Even Work?]
They are similar to a therapist's further questioning, or journal prompts, or a guided meditation. Could you reflect without them? Absolutely. But tarot cards help you access your intuition and true self in a way that allows your reflections to be as honest and authentic and revealing as possible.
[Related: How to Read Tarot Cards for Yourself]
With that, here are three of my favorite tarot card spreads for end of year reflections. But you know what else? These spreads for tarot cards actually could be used as fantastic journaling questions – with or without tarot!
3 Year End Reflection Tarot Spreads
The first one is a mega-one I created for 2022. The other two are fantastic ones created by other tarot readers.
1. My Reflect on 2022 Tarot Spread
Light some incense, grab your tarot journal and a hot beverage, and get cozy for this first one. I like to carve out some quality time with myself for an end-of-year reflection tarot spread, so that's why I created this comprehensive ten-question tarot spread. I hope you enjoy it!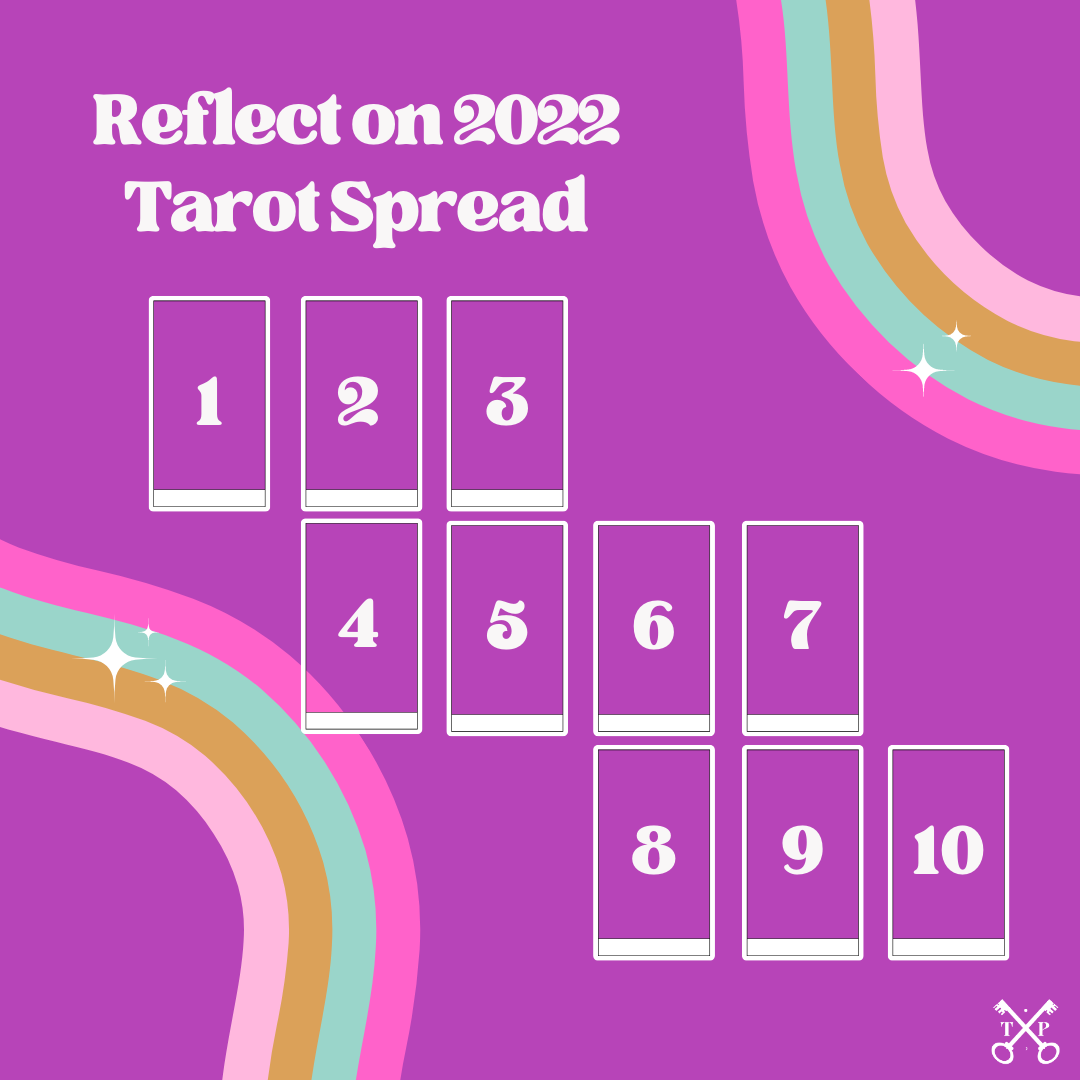 Here are the ten questions for each position in this tarot spread, pictured above:
 A major theme I explored in 2022
 Something I manifested in 2022
 A reason to be grateful for 2022
 Something I learned in 2022
 A challenge I overcame in 2022
 How I've grown in the past year
 My proudest accomplishment in 2022
 One way I took care of myself in 2022
 One way 2022 surprised me
 What I wish I did differently in 2022
[Related: How to Celebrate the Winter Solstice – 9 Simple and Fun Ways!]
2. Year in Review Spread by Yinnersight
Below is a new year in review tarot spread I found on Instagram that I quite like! It's by Instagram user @Yinnersight.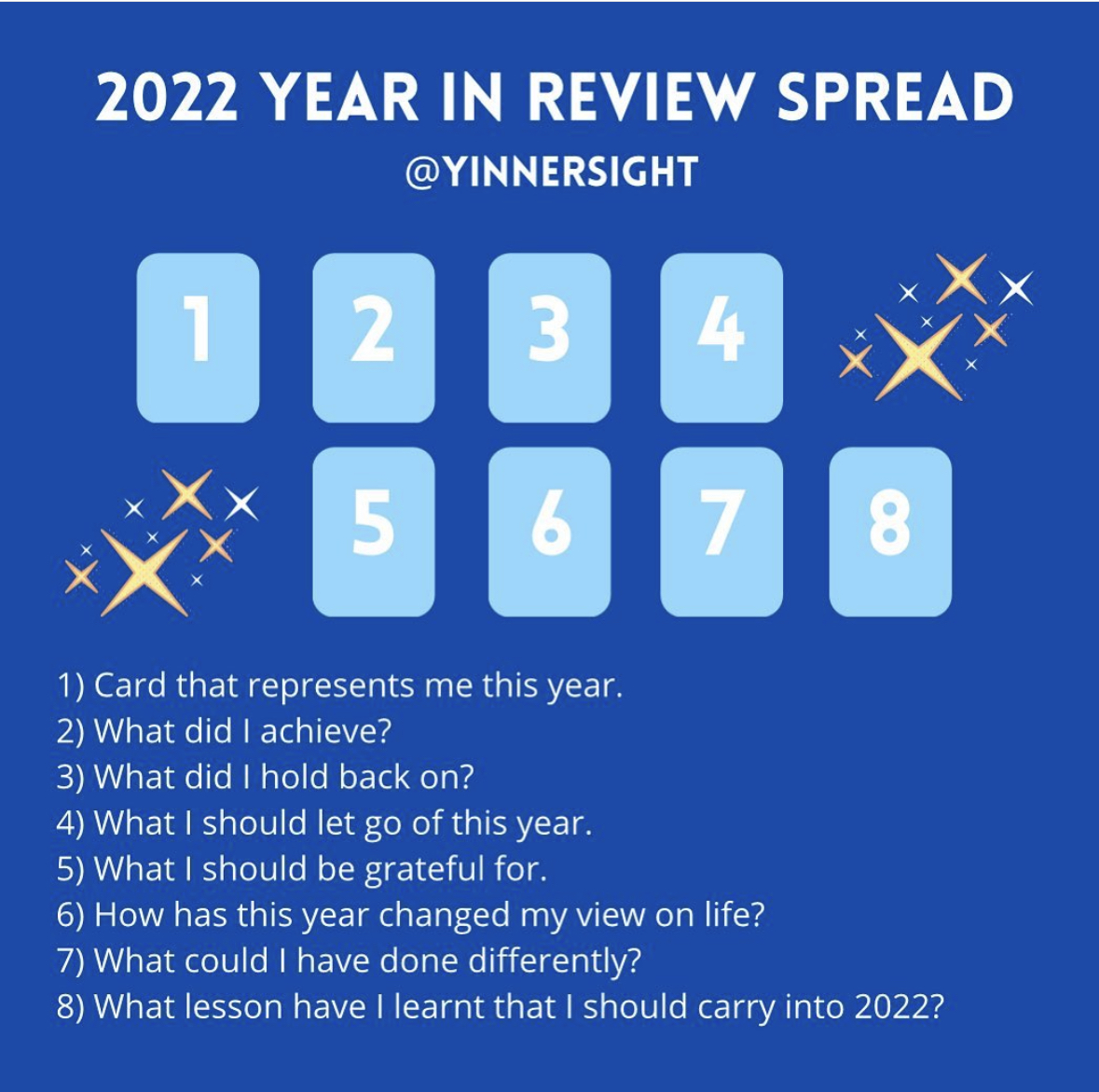 And here's an oldie but goodie from another great source for tarot spreads, Emerald Lotus Divination.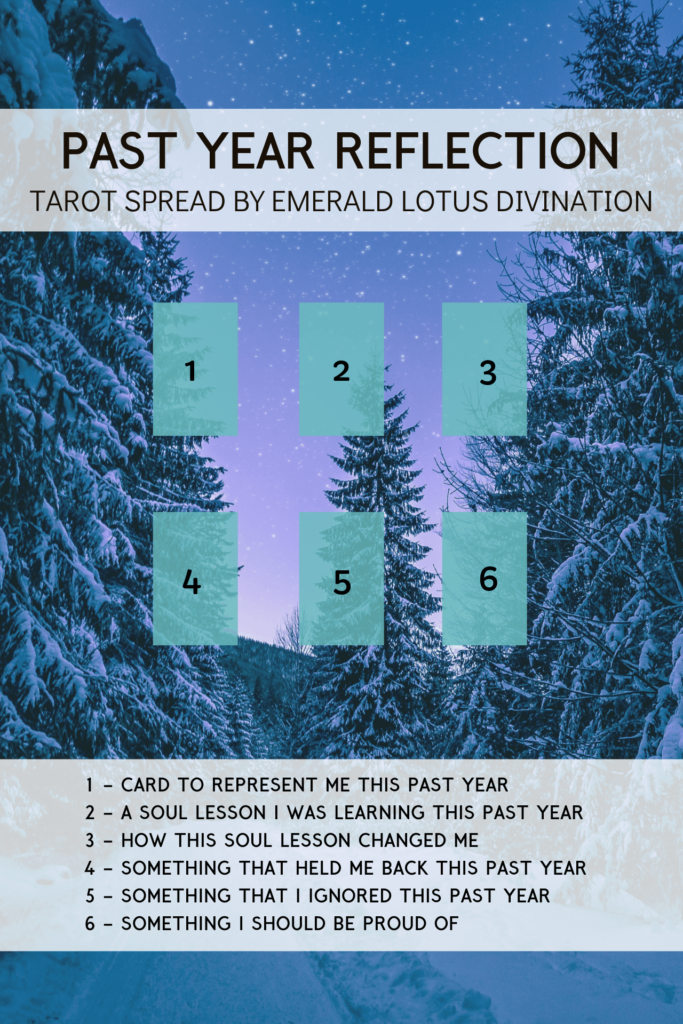 Let me know which of these spreads you try out. And, what other end of year or new year rituals do you like to do? Leave a comment below!