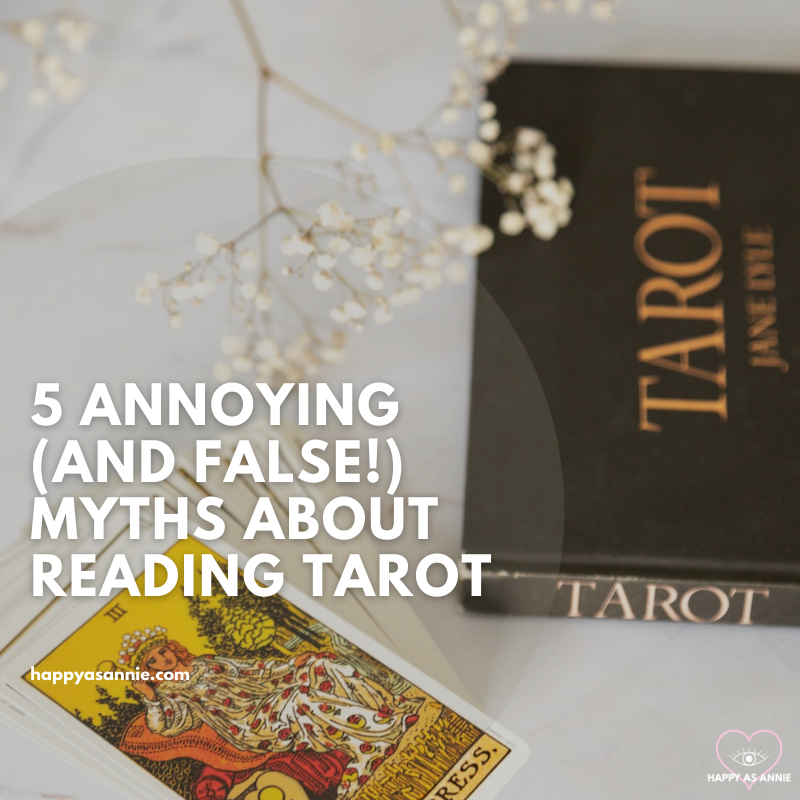 [This post contains affiliate links, which means that I may earn a small commission at no extra cost to you if you follow one of my links and make a purchase.]
Let's talk about tarot myths – and there are many! In this post, I bust the five most annoying (and false!) myths I've heard about reading tarot and working with tarot cards.
You can watch the video, or read on below.
Tarot Myth #1: You can't buy your own tarot deck.
You might call this myth a superstition: Tarot decks must be gifted to you. So you can't buy your own deck.
I think this myth is straight up gatekeeping, which unfortunately happens a lot in witchcraft, sacred practices, and any special art or skill like that. People that do something don't want too many other people doing it.
With tarot, many tarot readers don't want tarot reading to become mainstream. (Especially those tarot readers who make a living from being the only ones around who can do it!)  And this superstition – that you can't buy your own tarot deck and must wait to be gifted one – has this idea in mind.
Another version of this myth I've heard that shows that this is the idea behind it is that you not only must be gifted your tarot deck, but you must be given one by another tarot reader or healer. As if you have to be vetted and initiated into the sacred art of tarot reading. As awesome as that sounds – I would love to have been chosen by a master tarot reader as an initiate into some sacred coven or club – it's simply not necessary.
If you want a tarot deck, buy a tarot deck! In fact, here are some great beginner decks if you're still deciding which one to buy.
It is essential that you get a deck you like and connect with, so it makes sense that you choose your own deck rather than just taking whatever you can get from somebody else.
Tarot Myth #2: You must be psychic to read tarot cards. 
I actually believed this myth at some point in my life too. But it is not true! You don't have to be psychic to read tarot cards.
So if you've been intrigued by tarot but haven't worked with it because, alas , you are not psychic, you have no excuse now!
The reason why anybody can learn to work with tarot is because all of us are intuitive. I think the confusion happens because many people use the terms "psychic" and "intuitive" as synonyms and assume that you need to have psychic powers to read tarot. Hollywood equating tarot cards with fortune tellers and psychic mediums also hasn't helped matters much.
In modern society, we aren't really taught or encouraged to develop or listen to our intuition. Our society is way more science- and evidence-based, so we are all taught that those are skills we all possess that can be honed and developed. But what about intuition? Well, we haven't seen evidence of that in our lives, so it must be a "gift" that some other – special, fringe, kooky? –  people have, but not us. Right?
Wrong.
Of course, we are all tapped into our intuition to different degrees. Some of us are better at recognizing our intuition, and others of us are quite repressed when it comes to hearing – let alone trusting – our intuition.
(Related Video: How Does Tarot Even Work?)
But, everyone can learn to read tarot cards! I know many people, including myself, that read tarot cards well and have an uncanny understanding of and connection to them who are 100% not psychic.

Tarot Myth #3: You can't read tarot cards for yourself.
I heard this myth repeated as fact in a tarot reading workshop. Someone else attending the workshop asked what the instructor thought about reading tarot for yourself and the instructor totally shut it down! "How would that even work? That's absurd! No!" she stated matter of factly.
As soon as she said that, I signed out of the workshop and didn't even care to ask for my money back.
You can absolutely read tarot cards for yourself! I even wrote an entire blog post about how to read tarot cards for yourself!
It's not always easy, but it can be done. In fact, my entire journey with tarot cards began (and still primarily is) working with tarot as a tool for self-discovery and tapping into my own intuition. Tarot helps me get out of my head and get past my anxiety to make better decisions in life.
But let's talk about that elephant in the room: anxiety.
To read tarot cards for yourself, you need to be grounded, receptive to your intuition, and as objective as possible. If you can't get the hang of that, then perhaps the myth that one can't read tarot cards for oneself can be true!
For example, some people have a difficult time being objective when they read tarot for themselves, especially when they're really invested in the question. Let's say you ask a question and your ego really wants to hear a certain answer. But what happens? You pull a tarot card that is completely the opposite of what you wanted to hear! That's where the discipline and objectivity comes in. Do you just say, "Nah! That can't be the right card!" and put it back in the deck and pull cards until you get the one you want?
Because if that's what you do, then sure, perhaps you can't read tarot cards for yourself.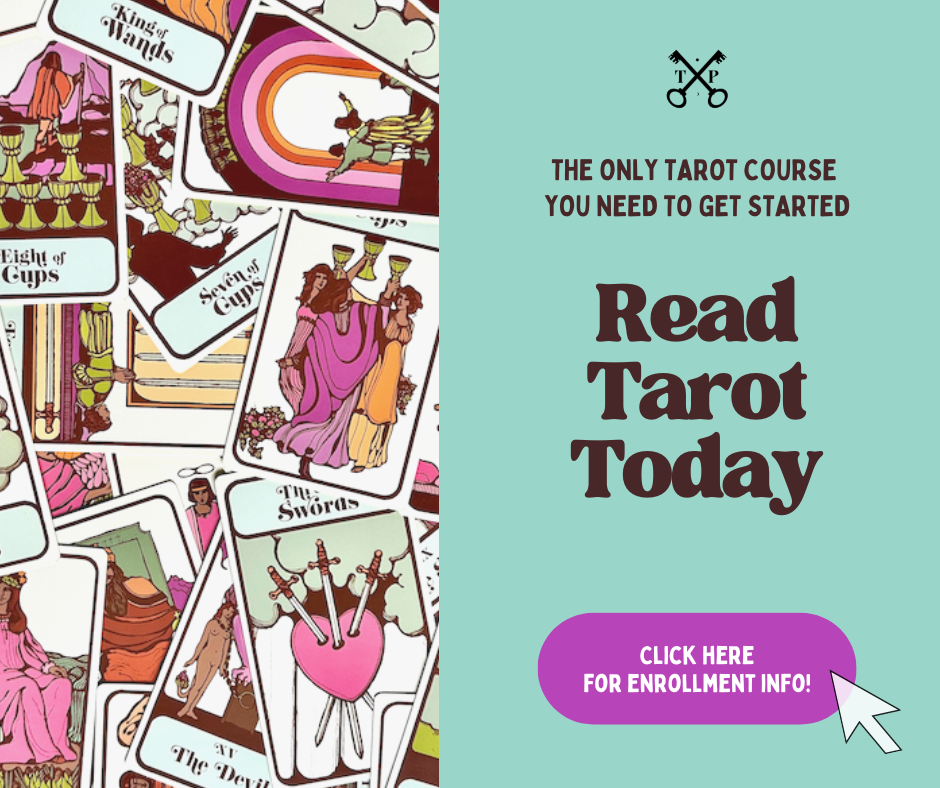 Tarot Myth #4: There are bad tarot cards.
Speaking of getting cards you don't like, let's address the myth that there are "bad" tarot cards. This is a tough one!
I'm sure you've already thought of which cards are the "bad" ones for you: The Tower, Death, the Ten of Swords, the Nine of Swords, the Three of Swords. Hell, all the swords!
But hear me out.
All the tarot does is mirror what we're thinking and feeling and reveal potential paths that we're going down. The tarot always has our highest good in mind. Plus, we always have free will to change course if we don't like the energy revealed by the cards.
I think we think a card is "bad" when it:
goes against our ego's desire;
warns us about something that triggers us; or
invites us to face something we aren't ready to process yet.
That's when we say, "Oh no! Not this terrible card!"
But if we think about tarot as guidance to help us live our best lives, how can there be bad cards?
I think this myth is important to debunk because cards like the Tower and the Three of Swords give people a lot of anxiety. And this fear can cause a lot of people to shut down and refuse to visit certain subjects or use the tarot in general.
And I'm here to try to prevent that from happening! I want to reassure you that there is a helpful message in every single tarot card you draw. It's not always puppies and rainbows, but it's guidance.

Tarot Myth #5: Tarot cards are evil.
This one is possibly the most annoying myth I hear. I hear it most often from Christians who believe that you will go to hell if you read tarot cards.
Honestly, maybe we will all burn in hell for reading tarot cards. At the end of the day, how the hell (see what I did there?) do I know what's going to happen to us?
But, the myth that tarot cards work by acting as a channel to Satanic or evil spirits that tell you the future needs to be busted right now. (And now that I've said the "S" word, I should probably mention that I know at least two people who are self-proclaimed Satanists and at least one of them is super sweet. But that's another myth for another blogger to tackle!)
You are not opening up your house to evil spirits like a bad Oujia board movie. Who says you're inviting any forces into your home? I just don't think that's what's happening when you read tarot cards.
Now, I know some people think that tarot cards act as a vehicle or medium to commune with spirits, ghosts, or ancestors. I don't want to belittle or dismiss those beliefs. In fact, I can get on board with the idea that tarot cards reveal messages from our spirit guides! That's not exactly the myth though. (I also happen to think Spirit Guides and intuition are pretty much the same thing, so there's that.)
But I do want to dismiss the part that says the way tarot cards work is by evil spirits telling you God's or Satan's plans or something like that.
Many people also think tarot cards are evil because the Bible denounces sorcery and divination. However, like I've said in numerous tarot posts and videos, I don't believe tarot card is sorcery or fortune telling. I believe that tarot is a psychological tool and a tool for self-discovery more than anything else. It helps us tap into our own intuition, deep desires, fears, and current energies at play in our lives. We all have free will and can take the tarot's advice and change course if we want. Reading tarot cards is not playing God.
So tell me. Which of these tarot myths have you heard? Are there others you've heard that I didn't mention in this post? Let me know in the comments below!