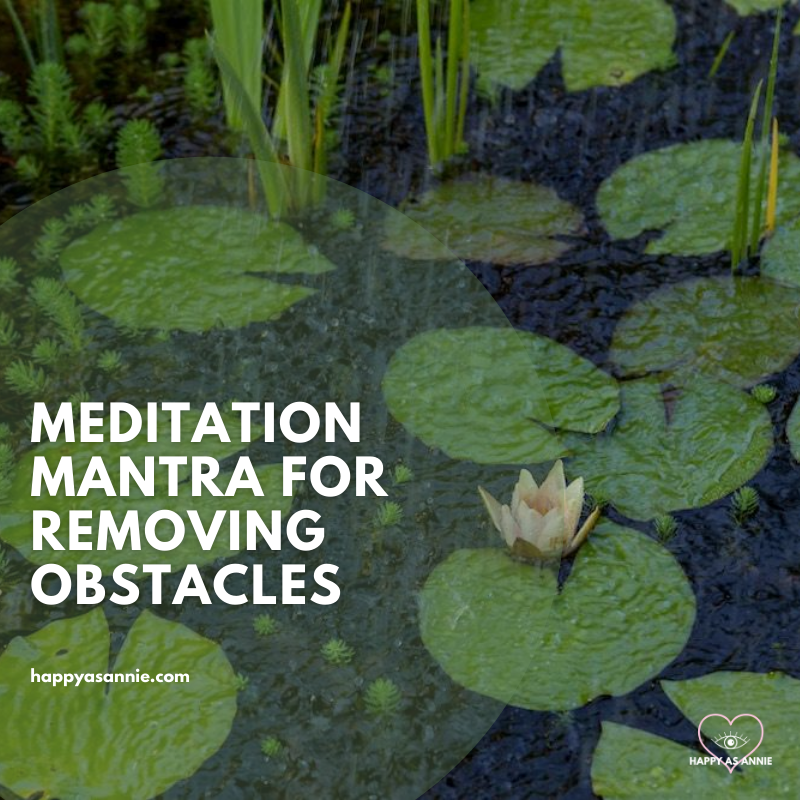 [This post may contain affiliate links. This means that I may earn a small commission at no extra cost to you if you follow one of my links and end up making a purchase.]
August 22nd marks the beginning of the 10-day Hindu festival of Ganesh Chaturthi. Ganesh Chaturthi honors Lord Ganesha, the Hindu God of New Beginnings and the Remover of Obstacles.
Could you use some obstacle removal? Because I sure could!
In this post, I share a powerful Hindu mantra that calls upon Ganesha to remove any obstacles blocking our journey to enlightenment and our highest good.
What is a mantra and how does it work?
Mantras are similar to prayers or affirmations. They are words chanted during meditation, yoga, or any other time to help clear your mind, give you a sense of peace or hope, or help you focus on an intention.
If you've ever tried meditation, you are well aware that our brains basically will not shut up. Well, repeating a mantra during meditation helps you silence, or at least lower the volume on, all the thoughts racing through your head. In helping prevent that scatterbrained feeling, mantras help you feel more present.
(Not feeling the Sanskrit? Click here for 10 beautiful affirmations–in English–to practice this week.)
Who is Ganesha and why would I call upon him?
In Hindu mythology, Ganesha is the God of New Beginnings and the Remover of Obstacles. He has the body of a human, the head of an elephant, and four arms. The elephant's head represents not only wisdom, but the facing of obstacles head on. Indeed, the walking right into, mowing down, and thus removing of obstacles, to be exact!
So, when we call upon Ganesha, we are channeling his fearless and determined spirit and asking for assistance in the removal of any obstacles in our life.
I suppose now would be a good time to clarify that I am neither Hindu nor Indian, in case you are wondering. I am by no means an authority on Hindu mythology or religious celebrations. I'm just sharing the wonderful and fascinating lessons I have learned from my yoga instructors and my own research.
In fact, below is a video of one of the actual experts I came across, Dr. Manoj Chalam, taking a minute to explain this Hindu deity.

So what's this Ganesh mantra, and what does it mean?
Here is the mantra:
Om gam ganapataye namaha.
So you know what you're saying when you recite this Ganesh mantra, here is a loose translation of the sounds.
Om and gam are basic Sanskrit syllables that are used to awaken our energy and align it with the universal energy around us. In fact, gam represents our root chakra, which governs our sense of safety and security. So first, this chant awakens our energy and opens our root chakra.
Ganapataye is one of the many other names for Ganesha. So now, we call upon him.
And what do we say to him? Namaha, which is a basic salutation or greeting of respect, not unlike the more popular namaste.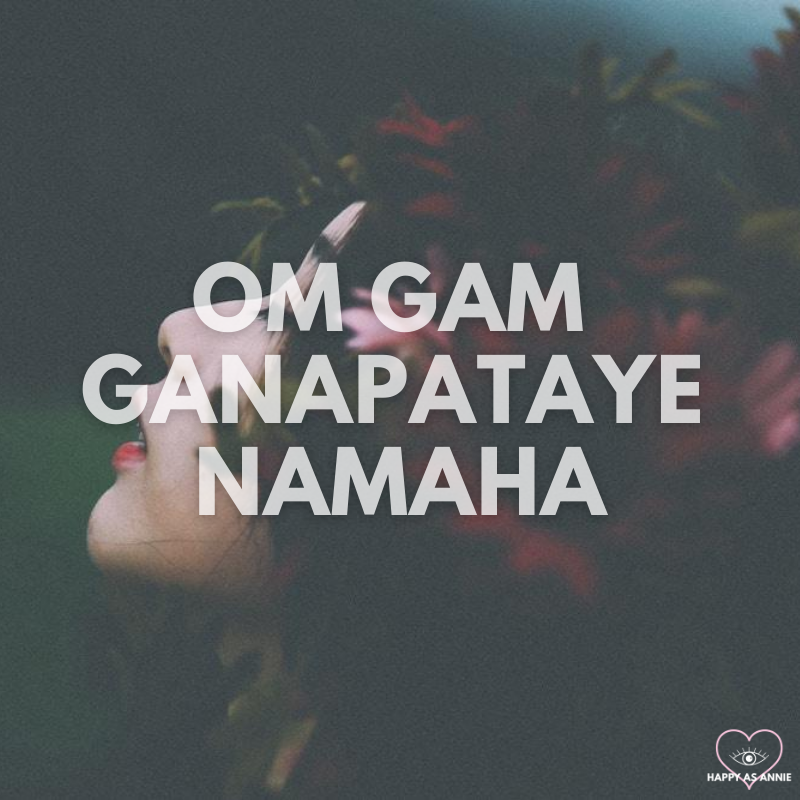 All together, this chant is basically invoking or calling upon Ganesh to give us his blessings and help us remove the obstacles that are preventing us from living our best life.
Below is audio of what the Ganesh mantra might sound like. If you don't feel comfortable chanting in Sanskrit, I'd bookmark this Ganesh mantra video and listen to it while you meditate. At just under eight minutes, it's a great guided meditation to do each morning.

When and how should I use this Ganesh mantra?
"Om Gam Ganapataye Namaha" is the perfect mantra for embarking on a journey, a new job or project, or turning a new leaf in general. In fact, this chant sets an intention that we are ready to trust Ganesha and the universe and go for what we really want in life and stop getting in our own way.
Because let's be honest.
Often, the things holding us back in life are our own fears, limiting beliefs, and insecurities. This chant helps us do the necessary inner work to transform our inner selves and make the changes necessary to manifest our dreams. By stepping into our intentions, we let go of our anxieties and fears and really allow ourselves to receive the abundance Ganesha and the universe have in store for us.
Other ways to channel Ganesha
Below are some ways to invite the energies of Ganesha into your home and life besides working with the Ganesh mantra.  Like I mentioned above, Ganesha resides in our root chakra, so if working with a specific Hindu deity or a Sanskrit mantra doesn't end up resonating with you, general root chakra work is a great alternative.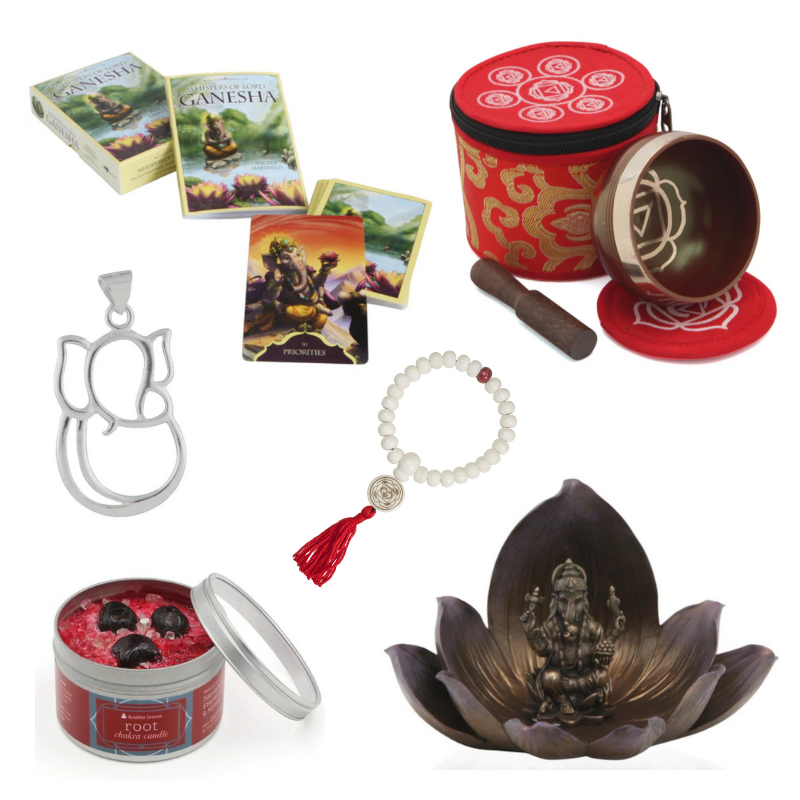 Whispers of Lord Ganesha Card Deck – comes with 50 illustrated cards in hard cover box
Travel Size Root Chakra Singing Bowl – comes in brocade carrying case with wooden mallet and fabric cushion
Abstract Ganesh Pendant – sterling silver with various chain options
Root Chakra Wrist Mala – sustainably sourced bone beads, all seven chakras available
Root Chakra Candle – nontoxic soy wax set with gemstones and infused with essential oils
Ganesh Lotus Statue and Incense Burner – cast resin with bronze finish, for indoor use
So tell me. What obstacles are you ready to remove? What could this Ganesh mantra help you let go of?

Like this post? Share it!