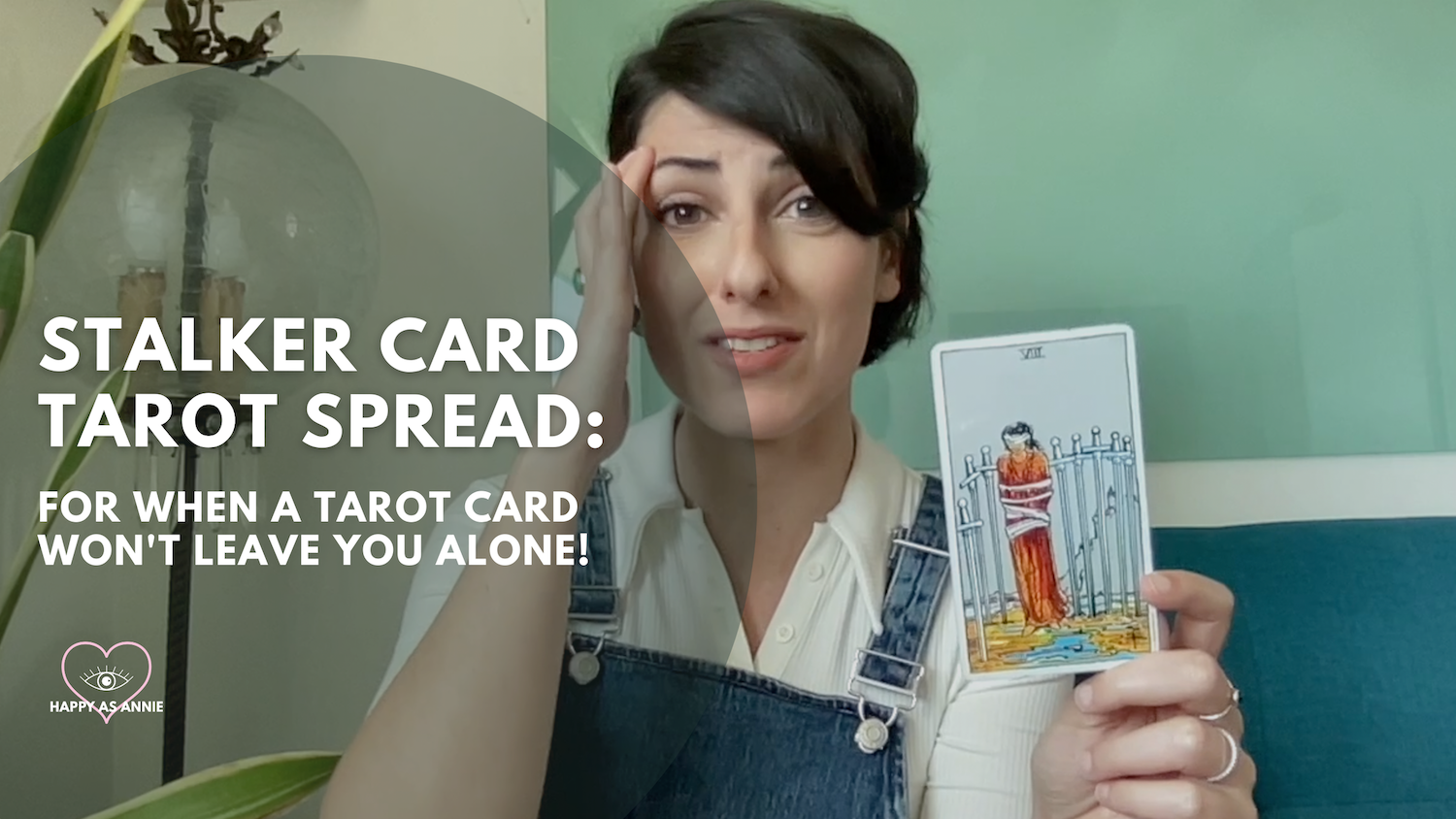 [This post may contain affiliate links. This means that I may earn a small commission at no extra cost to you if you follow one of my links and end up making a purchase.]
If you read tarot for yourself, then you have experienced THE STALKER CARD.
If you have a particular tarot card that keeps showing up in tarot readings for yourself and you want to figure out what it means, this is the post (and video) for you!
What are stalker cards in tarot? Why do they happen? And what can we do about them?
In this post, I'll show you a very simple tarot spread you can do  with your stalker card in order to help you understand what the heck this stalker card is trying to tell you, why it keeps popping up in your tarot readings, and how you can get it to leave you alone!
What is a stalker card?
Disclaimer: I personally don't like the term "stalker card." It's creepy and potentially triggering and I don't like it. But I can't seem to settle on a good replacement term. Following card? Repeating card? Rerun card? If you can think of another word for this card, please let me know in the comments below. I am down to cancel this word for a better one!
So essentially, a stalker card is a card from your tarot deck that won't leave you alone: a card that repeatedly shows up in your tarot readings. Another very common arena for a stalker card to present itself is in your daily tarot card pulls. You may pull the same card two or three days in a row, or after about a month you may look back on your tarot journal and realize the same card came up several times over the past weeks.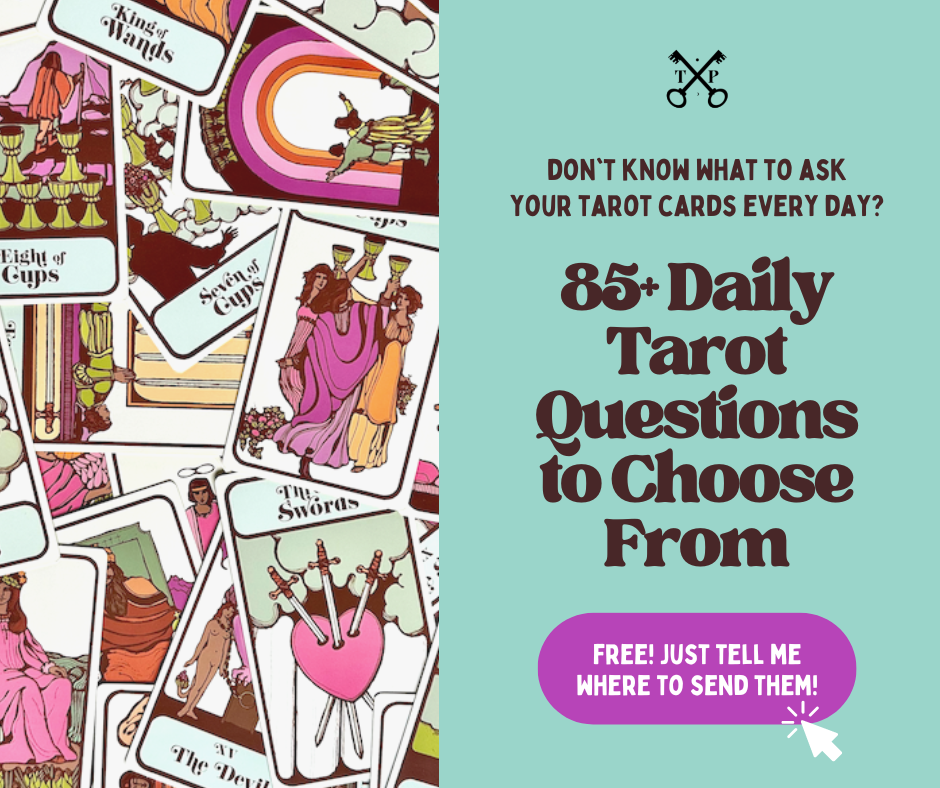 Why do stalker cards happen in tarot?
Stalker cards actually make a lot of sense. We each have unique personalities, life experiences, triggers, traumas, hopes, dreams, and more. So it makes sense that if something is a recurring theme or lesson in your life, that the tarot card or cards associated with that theme or lesson would keep showing up.
(Related: What's the Shadow Card in a Tarot Reading?)
Another reason why stalker cards make sense is because we don't tend to deal with our problems immediately. We hem and haw and get stuck in denial and avoidance. And sometimes we simply don't see the issue clearly yet. And so our intuition (or Spirit, or the Universe, or whatever term resonates with you) will keep repeating the message until we figure it out. It wouldn't make much sense for our intuition to say "Welp, they aren't listening. Let's just abandon what this person needs to hear and just show them something else for the fun of it!"
Right?
So a stalker card will keep appearing until we deal with the thing that needs to be dealt with.
Or until circumstances or conditions change enough where that card's message expires or becomes moot. And honestly, that's probably not the most ideal outcome.  So I'm here to help you decode your stalker card sooner rather than later!
Would you rather watch than read? 
This YouTube video shares some of the tarot cards that have stalked me over the years. It also goes through the tarot spread I'm about to show you. So read on or watch below!
Try my Stalker Card Tarot Spread!
Below is a simple three-card tarot spread I like to do when a tarot card keeps showing up in my readings or in my daily tarot card pull and I'm having trouble understanding what to do about it.
First, find your particular stalker card in your tarot deck. Take it out and place it at the top of this spread. The stalker card is in Position 1 in the tarot spread diagram below.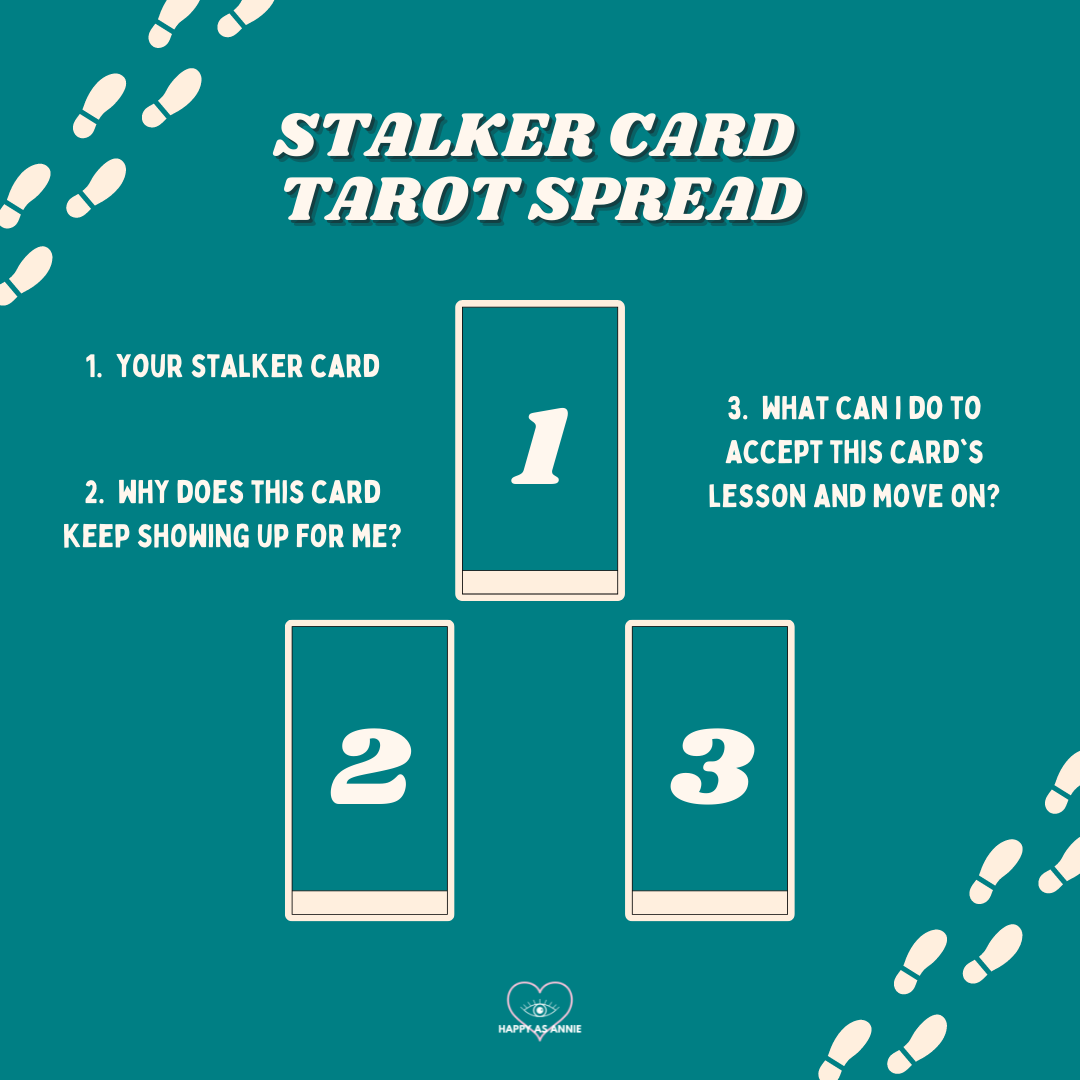 Once your stalker card has been placed in Position 1 of this spread, shuffle your cards. I like to gaze at the stalker card and gently meditate on its meaning while I shuffle. Perhaps run through all the times this particular card has come up in your readings. Then, when you are ready, draw two cards.
Card 2 will shed light on why this particular tarot card keeps showing up for you. Why is it stalking you? Why won't it go away?
Card 3 will give you insight on what exactly you can do to accept this card's lesson and move on. What does this card want you to do? What are you not seeing, or what change might you need to make in your life?
Since this is a really simple spread, I suggest you do some tarot journaling to really dive deep into each card.
And, if you must, I think one clarifier card each for the second and third cards might be helpful as well if you're feeling stuck and need some more information.
(Related: How to Use Clarifier Cards in Tarot Readings)
See this spread in action!
The YouTube video above walks through this very tarot spread done for one of my common stalker cards, the Eight of Swords. So if you haven't clicked on the video yet, check it out!
If you try this spread and gain insight on one of your tarot stalker cards, let me know! Leave a comment below.