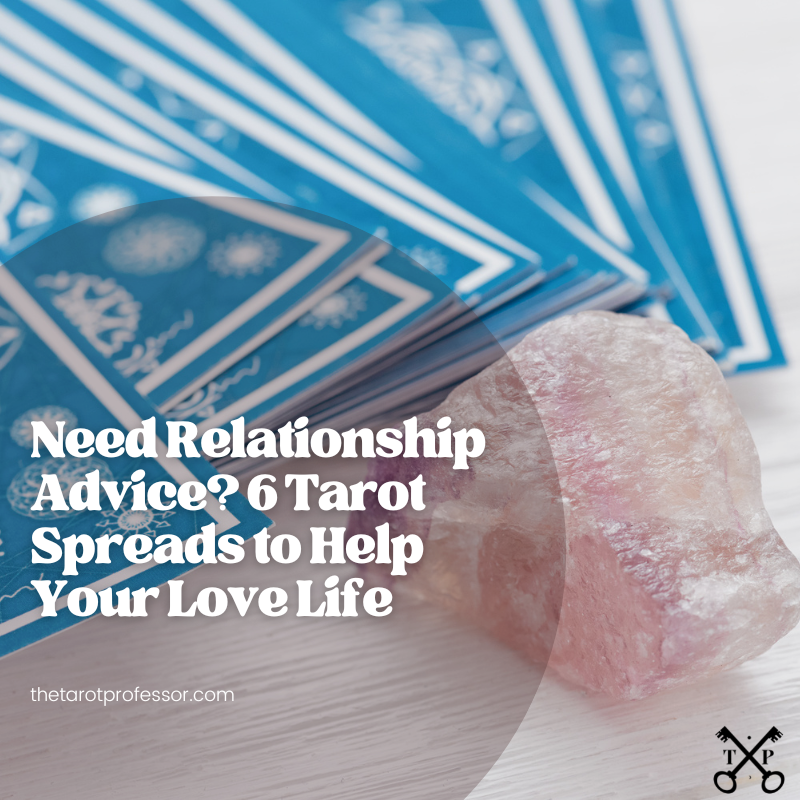 How does my crush feel about me? When will I meet my soul mate?  Are they "the one"? Where is this relationship headed? Is this marriage worth saving?
Tarot spreads for love and relationship readings are by far the most popular tarot spreads. So here are six tarot spreads for love and relationship readings – for the married, happily single, frustratedly single, and all of us in between!
I arranged these tarot spreads from simplest to most complex. In fact, the first one is so simple it doesn't even really count as a "spread."
Choose your favorite or try them all!
1. The Lovers Spread
Perfect for those in a relationship
When it comes to a tarot spread, love related or not, the simpler the better is what I always say! And it doesn't get simpler than this first tarot love reading.
In fact, for this relationship reading, I go super bare bones and use only the Major Arcana cards of the tarot deck. It's super easy and fun to do.  Watch me explain it in the short video from my tarot YouTube channel below.
(Related: An Easy Tarot Reading to Restore Balance in Your Life)
2. Basic Three Card Relationship Spread
Great for those in a relationship or with a special someone in mind
Again, tarot spreads for love questions don't have to be super complicated. This three-card love tarot spread is one of the most basic relationship spreads there is. Plus, it can be used as a crush tarot spread as well – to gain some more intuitive insight on a potential relationship.
One card represents you; the other represents your love interest; and the third represents your relationship (or potential for relationship) with each other.
Here's how I like to lay it out.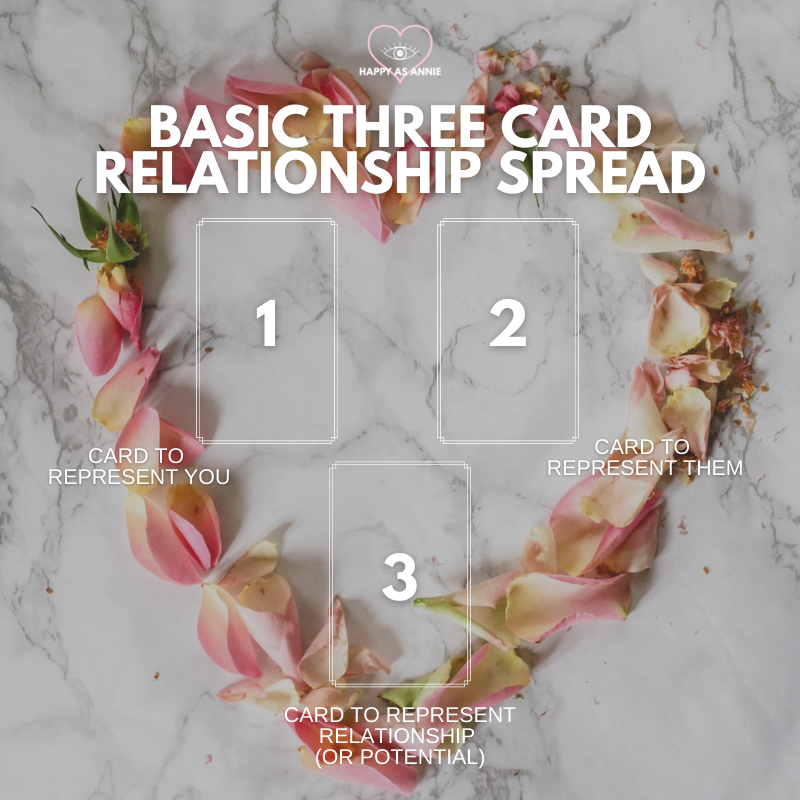 So if you are looking specifically for a love tarot spread for a crush, I highly recommend this one in place of simply asking, "What does he think of me?" and pulling a few cards.
3. Heart Opener Tarot Spread
Great for anybody exploring their own relationship with love
Not all love tarot spreads ask relationship questions though! So a post on tarot spreads for love questions would be incomplete without talking about love more generally.
Take me for example. I've been working on opening my heart chakra a bunch in recent years.  This heart opener tarot spread is the culmination of some reading, inner work, and rituals that don't center around any particular relationship.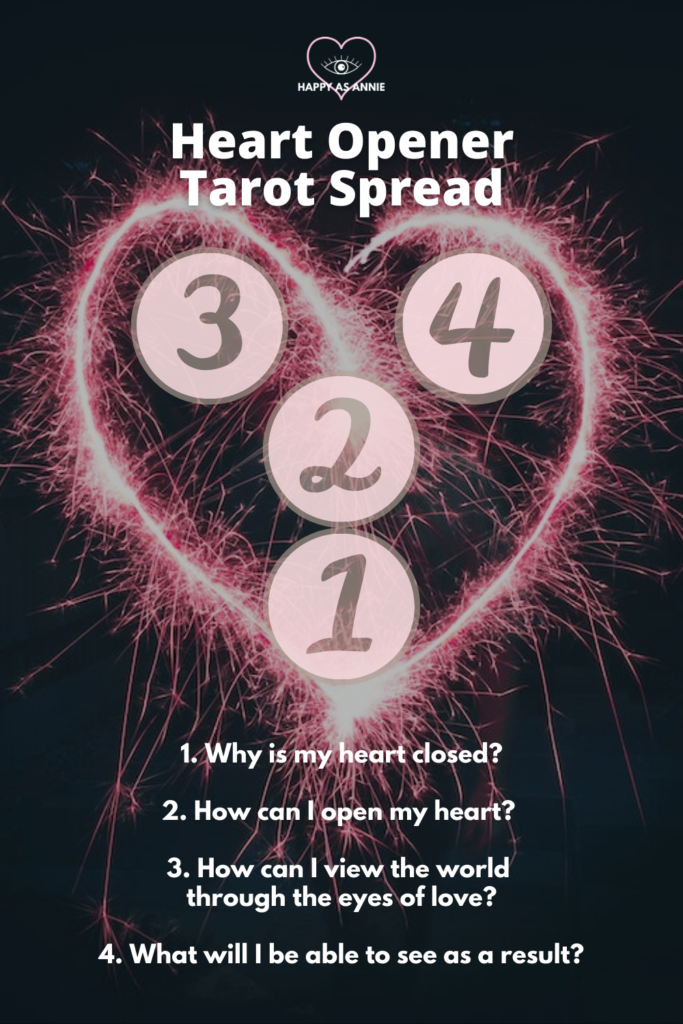 (Related: Discover Your Soul's Purpose Tarot Spread)
When it comes to love or a specific relationship, tarot spread questions can be tricky! They tend to get into fortune-telling and mind-reading territory that I'm not really a fan of.  So it was really important to me to create a spread that allows us to use our tarot cards for love and heart matters more generally.
4. Simple Self-Love Tarot Spread
Great for all, regardless of relationship status
Interrobang Tarot actually created this simple self-love spread as a Valentine's Day tarot spread a few years ago. How perfect! And I think it absolutely counts as a tarot love reading.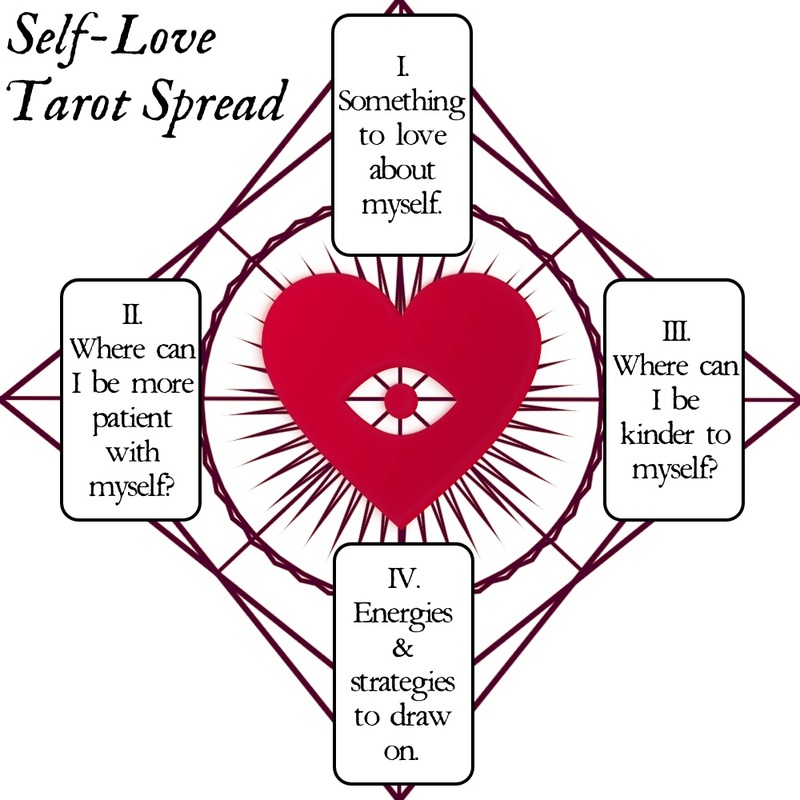 After all, our relationship with ourself is the longest relationship we will ever have with anybody! So what better relationship advice tarot spread to do than one about your relationship with yourself?
5. Five Card Cross Relationship Spread
Perfect for those in a relationship
This spread is from Labyrinthos. I like it because it examines the relationship's past, present, and future.  In fact, I think this is an excellent tarot spread for marriages, which most definitely can be affected by each partner's past experiences.
Here's how to lay it out.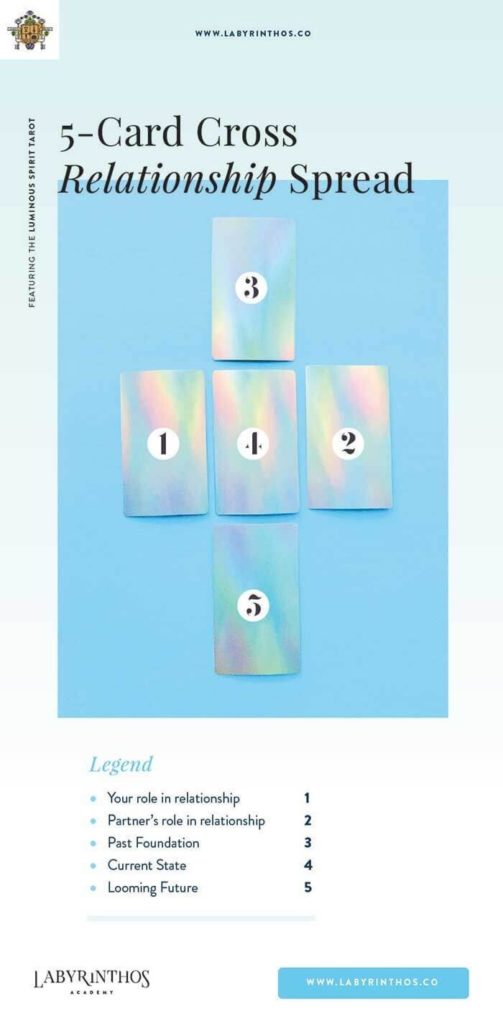 I know that some people are after a straight up "Are we meant to be together?" tarot spread. But if you've been following me for awhile now, you know I am not a fan of yes no tarot questions for various reasons. Besides, what does "meant to be" even mean anymore? We can be a bit more grounded in the here and now when it comes to relationship tarot spreads, which is why I like this one.
I also like this tarot spread for relationships because it takes both partners' roles and energies into account. I hate it when people get a love tarot reading just to ask, "What do they think of me?" or "Do they still want to be with me?" While you can certainly find a tarot spread for "Does he love me?" and similar questions, how about we worry about what you want and what you think a little more is all I'm saying.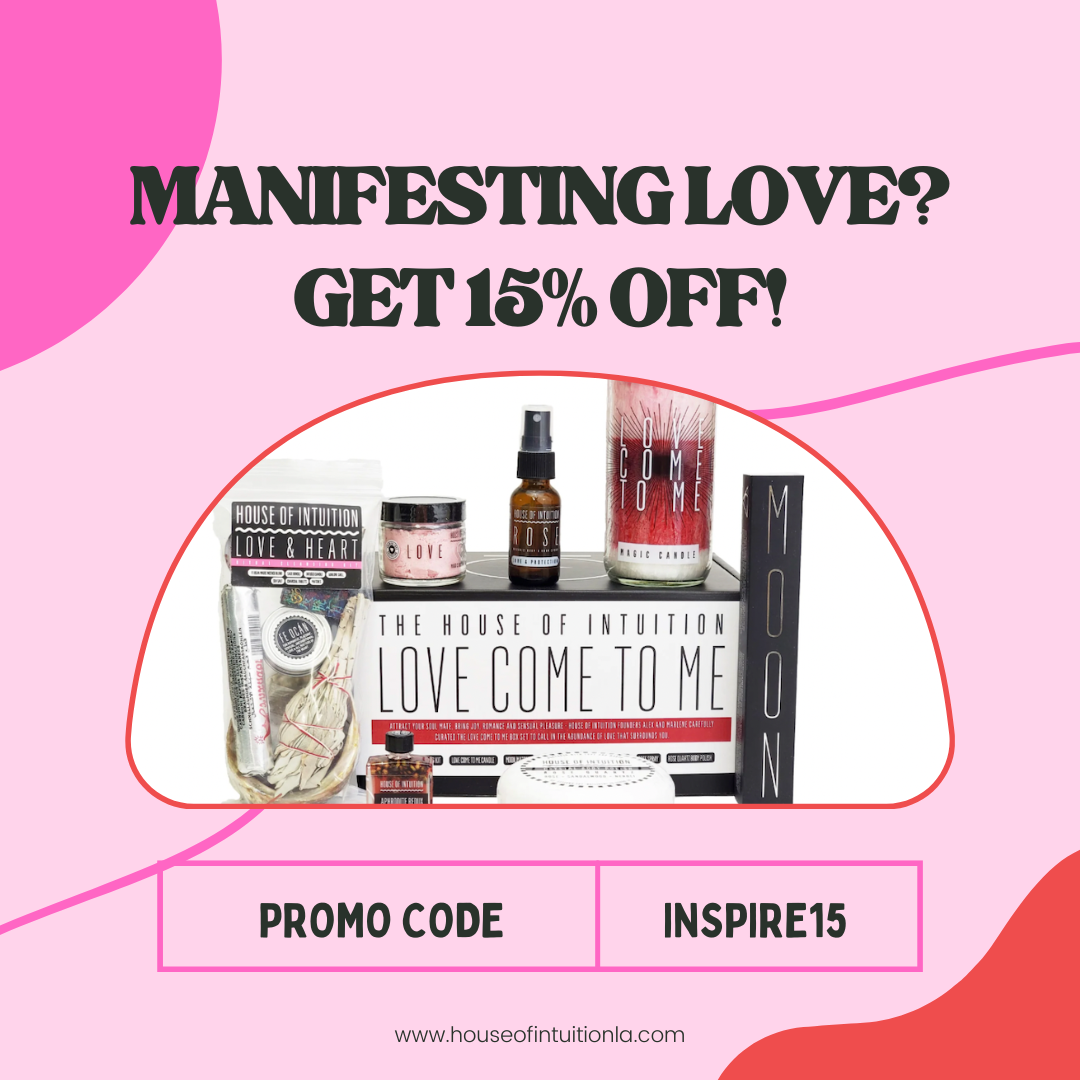 6. Manifesting a Soulmate Tarot Spread
Perfect for singles looking for love
Nope – this list is not just a bunch of relationship tarot spreads! This particular tarot spread layout is by Emerald Lotus Divination and keeps singles in mind, which is why it was a must for our list! Do not think for a second that I would forget my precious singles on Valentine's Day.
Where oh where is my future love!? Tarot spreads are a great way to find out where your intuition is trying to guide you when it comes to finding love.
While my heart opener tarot spread and the self-love tarot spread, both above, are also great for singles, this spread more specifically addresses the desire to change your single status. To be clear, this isn't an "Is she the one?" tarot spread. It helps you apply the law of attraction to manifest a soul mate in general.  And I suppose it's no surprise that of all these love and relationship tarot spreads, manifesting a soulmate – no simple feat – takes the most cards!
(Related: 3 Tips for Manifesting Your Dream Life)
BONUS: Here's one more tarot spread for you!
As if six tarot spreads for relationship readings was not enough to get you started, I have one more for you! I created it with one of my favorite tarot practitioners, Linds Cardoza of Moon Mama Oracle, as a special treat for our Instagram followers!
Click here to check it out on Instagram. Then make sure to follow @TheTarotProfessor and say hi!
Do you do relationship tarot readings for yourself? Did you try any of the tarot spreads for your love life shown here? Let me know what you thought!