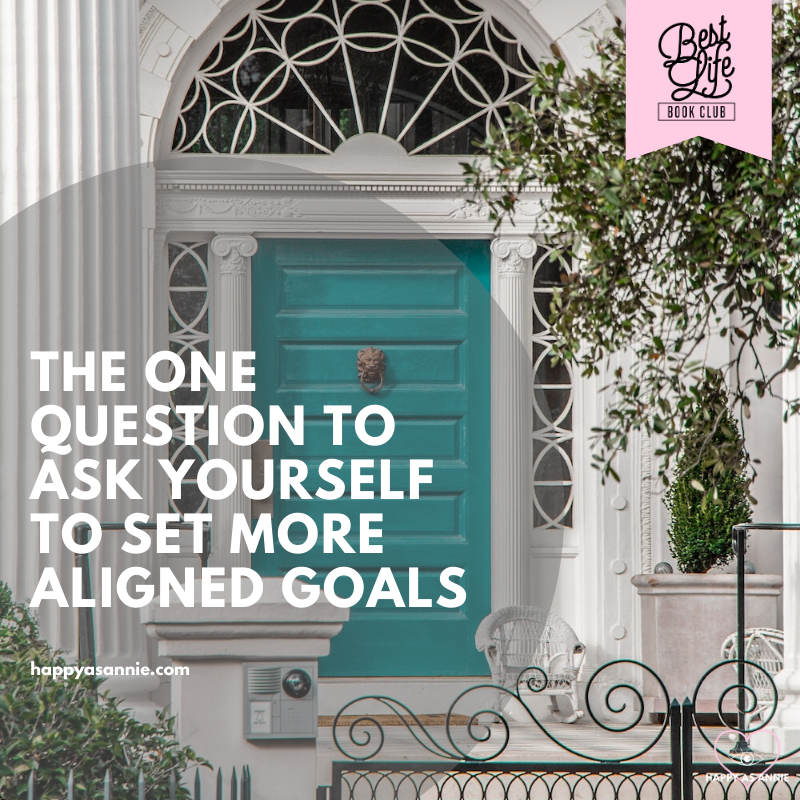 [I am a proud affiliate of Bookshop.org and this post may contain affiliate links to some of my favorite books. This means that I may earn a small commission at no extra cost to you if you follow one of my links and make a Bookshop.org purchase.]
In the beginning of Steering by Starlight: The Science and Magic of Finding Your Destiny, author and life coach Martha Beck helps us to get clear on what we really want in life and to set better life goals.
She insists that most people don't know what they really, truly want in their heart of hearts, so they might not be setting the best goals for themselves. In her words, "What we think would bring us happiness often won't do the trick. What we're really after when we yearn for something is a feeling state."
In this post, I walk you through how to set better life goals according to Martha Beck. Get past a basic, surface-level goal to the underlying feeling state that will bring you true joy and fulfillment in life.
[This book is the May pick for Best Life Book Club. Join the exclusive Facebook group today!]

Step 1: Start with identifying your surface-level wants.
What do you want in life? What are your top five goals that you wish to achieve in, say, the next five to ten years?
Do you want to buy a house? Get married? Have a child? Get a promotion or make partner?
Maybe you want to travel to Bali. Or go sky-diving. Or finally publish your book.
In her book Steering by Starlight, Martha Beck asks us to write down the top five things we want in life.
(If you need some guidance in your daydreaming, here is a fun worksheet that will help you visualize your dream life in detail.)
Why isn't this step enough?
Most people will stop there and set out on achieving each of those things. I know that's what I did.
Back in high school, one of my top five things to achieve in life was to buy a mansion. Another was to be a lawyer. I come from a family of immigrants and my parents still live in the tiny apartment I grew up in. I inherited the common immigrant American dream of "making it" and having more than my parents did. So, more than perhaps anything, I knew I had to be a big shot (you know, a doctor or a lawyer) and live in a mansion some day.
How would I get there? I got excellent grades, was accepted to a great university, and went to law school so I could become a successful lawyer and get that mansion money. I even had a listing of a Hollywood Hills home (complete with infinity pool) framed on my desk in my studio apartment while in law school, right underneath the framed A+ I got in my entertainment law class.
All because I did Step 1 and went to work!
Sounds great, right? So, what's the problem?
The problem is that I set these goals with my ego. I was focusing too much on achieving these symbols rather than the underlying feelings and experiences they are meant to represent.
So we can't stop at Step 1. We can set better goals than that.

Step 2: Describe how you will feel when you get each of those things.
Learning the next step in this goal-setting process is the first of many magical a-ha moments Martha Beck gives us in Steering by Starlight.
To set better goals, Beck instructs us to answer the following question for each of the things we listed in Step 1:
When I have Thing 1, the sensation I'll feel is: __________
Let's take my mansion, for example. Why do I want the mansion? It means my parents and I can be proud of me because I'm rich and successful. If I can afford a mansion, it means I am successful and have a lot of money. After honest thought about my emotions, I realized that when I have my mansion, the sensation I'll feel is financial security.
So I don't really want a mansion. I mean, I don't not want a mansion, but the mansion is not the key to my happiness. What is key to my happiness is the feeling of security. Security is my real goal.
Want another example of turning a misleading goal into a better, more authentic goal?
Let's take this lawyer business. Why did I want to be a lawyer? Because I have a passionate drive for social justice and providing a voice for the voiceless? Unfortunately, no, not really. I'm not not into those things, but if the personal statement I wrote to get into law school is any indication, those things were not part of my mission.
If I'm being completely honest with myself (which you have to be for any self-discovery exercises), I wanted to be a lawyer because it is an impressive job and I wanted everybody to be proud of me. I want to feel pride and respect.
So I don't really want to be a lawyer. I want to be proud of my work and I want the respect of those I care about, like my family and friends. Pride and recognition are my real goals.

How does this exercise change your life? 
This simple exercise is so illuminating! It gets you beyond narrow-minded, ego-driven goals and gets to the heart of your true values and deep desires. This is necessary if you want to set better goals.
A mansion and a legal job are not essential for my happiness. But financial security, pride in my work, and recognition from others are. Once we identify what we truly want for ourselves and for our lives, we can get to work bringing about those feeling states that we have identified as essential to our happiness.
Turns out I can obtain financial security and pride in my work as an English professor too. Maybe publishing a book will bring me the acclaim and recognition I want. Who knows? But at least now I know what to aim for and can go about it without ego-driven tunnel vision.
There is nothing worse than working your butt off achieving goals you think you've wanted since your teenage years only to start checking off the list and realize you are no better off than you were before you achieved them.

Like this post? Share it!