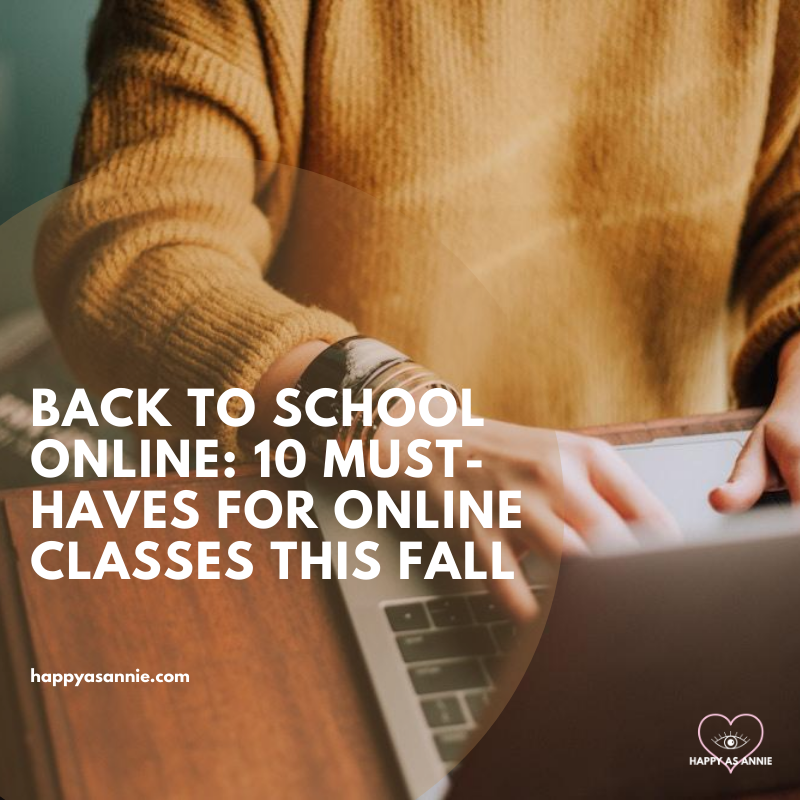 [This post may contain affiliate links. This means that I may earn a small commission at no extra cost to you if you follow one of my links and end up making a purchase.]
It's August, and as an English professor, I'm gearing up for back to school, online that is. Because of COVID-19, I'll be teaching only online courses this fall. So, in the spirit of going back to school online, here are 10 remote learning must haves for anybody teaching or learning online this semester.
If you're like me, online classes mean you spend way too long contorted on the couch or in bed with your laptop. Going back to school online means a proper and adjustable laptop setup is more necessary than ever. It will help you maintain healthy posture while you work or study and help prevent back pain and tension headaches.
The bamboo laptop desk pictured below is adjustable and has a cute little tray for storing ear buds, pens, or flash drives. It's available in two sizes on Amazon.

2. External mouse and mousepad
Carpal tunnel and tendonitis in your wrist are just as real as back pain or tension headaches. Back in my legal secretary days, way before law school even, I worked for two very busy and demanding litigators. I remember my desk was always such a mess that I never had enough room for a properly placed keyboard or mouse pad. I ended up getting such bad wrist pain that I had to miss a day of work to go to the doctor. And, of course, since I worked for lawyers, they freaked out and totally pimped out my desk when I got back with those fancy ergonomic keyboards, a robot looking roller ball mouse, the works!
More than a decade later, and even before going back to school entirely online, I contorted my wrist on the tiny track pad of my laptop for so long each day that I started to experience the same pain. Will I ever learn?
Well, I'm learning now. Invest in an external mouse (they aren't even that expensive) and you get to reward yourself with a fun little mouse pad to go with! The perfect swag for going back to school online.
The round Smooffly one pictured above is available in a bunch of patterns on Amazon.
Who else is completely sick of Zoom by now? While I teach fully online college classes, which means I don't have to worry about live class sessions via Zoom, I do a lot of video and audio work and will most certainly have riveting department and faculty meetings on Zoom.
Do your colleagues and whoever you live with a favor by investing in some headphones. The ones pictured above are a great deal on Amazon right now. They also come in a few fun, bright colors.
These glasses protect our eyes by filtering the harsh blue rays radiating from computer screens. They can ease eye strain so your eye muscles don't tire out from all that staring. Blocking the high-energy blue light that digital screens give off can also help prevent that wired feeling our devices can give us that make it difficult to wind down and fall asleep.
Finally, these ones from  Amazon are really cute! And I am NOT above putting on fashion glasses to get into more of a professor or student mood. At least blue light blocking glasses are functional as well as fashionable.

Our crown chakra, located at the crown of our head, regulates our ability to focus and concentrate. That's why I think this crown chakra candle by Buddha Groove is the perfect work or study room essential. It is infused with amethyst gemstones and some of my favorite essential oils: myrrh, sandalwood, and frankincense.
(Click here to learn more about all seven of our chakras.)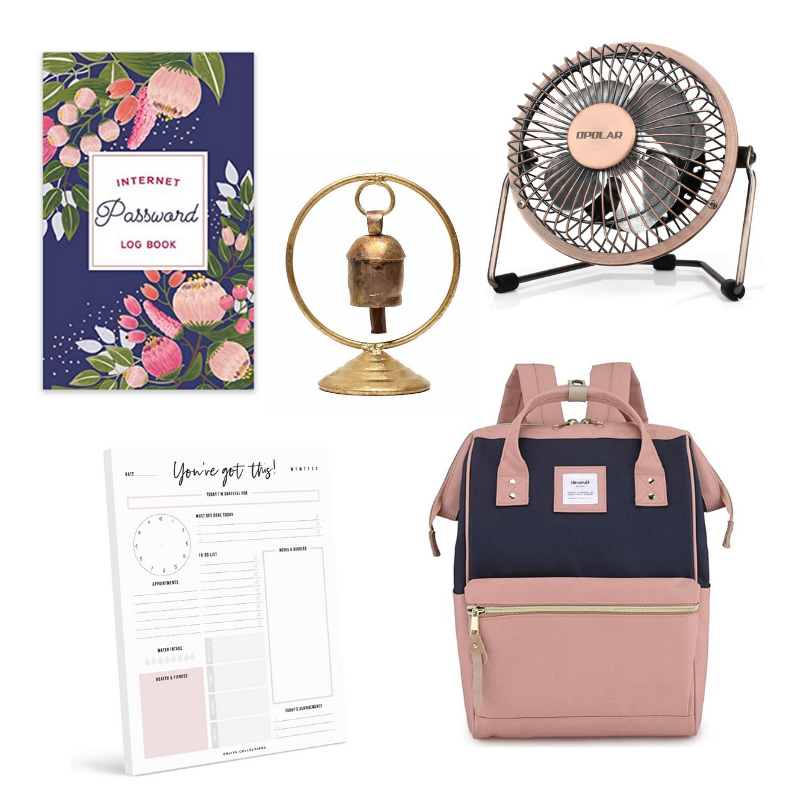 I don't care if this next remote learning must-have makes me sound 1,000 years old. If I have to come up with ONE MORE login and password, I don't know what! Of course, I just click on the option that has my browser remember the password so I don't have to, but if you've ever had to clear the cookies from your browser or have to renew your credentials for security purposes, you know that's not good enough.
So I finally broke down and bought a simple password organizer and have never looked back.
Ringing a bell literally makes the surrounding air vibrate with new energy. As such, it can be used as a cleansing tool to clear stagnant or negative energies.
So, when you've been studying or working a little too hard and are getting frustrated or stuck, gently ringing a bell like this tabletop temple bell from Buddha Groove can act as a calming reset button.
I love paper. In fact, I encourage my online students to download and print out their syllabus and course schedule at the beginning of the semester so they can have it handy at their desk. It's much easier to refer to a to-do list or deadlines on paper than in tab 8 of 22 open browser tabs on your computer!
Keeping a little planning or to-do notepad on your desk is a cute but no-frills way to look away from your screen and keep your priorities straight for the week or even just the afternoon ahead.
In Los Angeles, August and September are still hot as hell! So if you are stuck in a tiny, sweaty apartment without central air, you have to figure out how to make your study or work space as comfortable as possible. Or else you won't spend too much time there!
A mini desk fan is a really portable and easy way to stay cool while you study or work. The one pictured above is one of Amazon's best rated and really affordable.
And finally, in the spirit of us finally beating coronavirus, here's to hoping that you may want to transport your laptop from your bedroom to, say, a comfy window seat at your favorite cafe (or at least your dining room) one day! The backpack pictured above has a charging port so you can charge your laptop with a power bank (not included) while you travel.  It also comes in a bunch of cool colors.
What's your back to school season looking like this year? Let me know in the comments below!