I wake up with a lot of anxiety. Here's my simple morning anxiety hack that helps me feel better so I can jump out of bed and have a great day.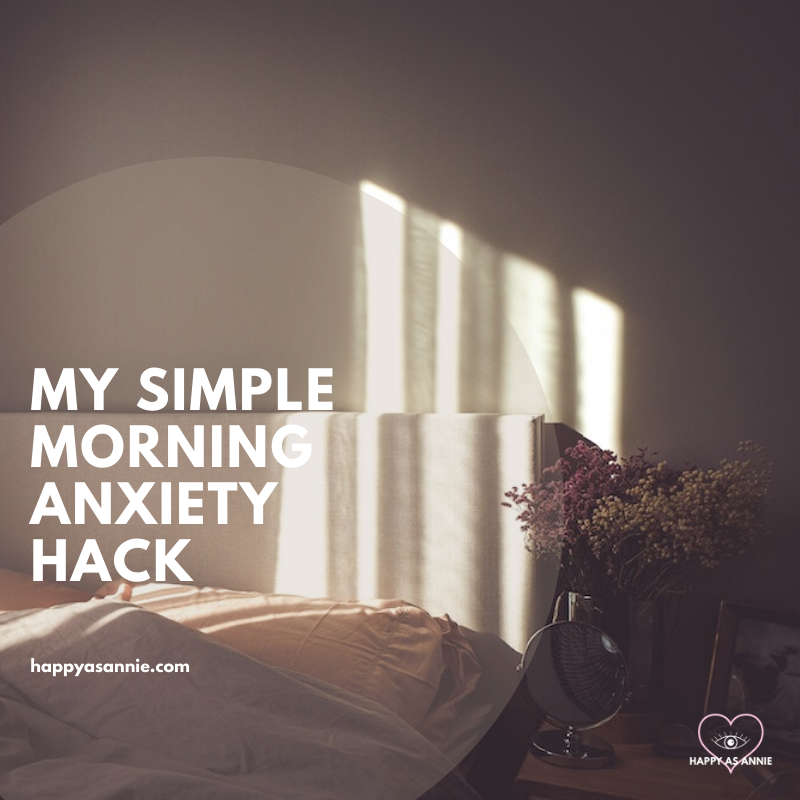 [I am a proud affiliate of Bookshop.org and this post may contain affiliate links to some of my favorite books. This means that I may earn a small commission at no extra cost to you if you follow one of my links and make a Bookshop.org purchase.]
What my morning anxiety feels like
I realized after reading The Mind-Gut Connection by Dr. Emeran Mayer that early morning anxiety is quite common in people with anxiety disorders. Stomach cramps, nausea, slight panic, and dread. Before I knew what it was, I'd freak out and run to the bathroom because I thought I was going to be sick. (In fact, getting out of bad in that state super fast ironically made me throw up or faint a few times so joke's on me I guess.)
But now, I've finally learned that, no, I don't have food poisoning every morning That would be ridiculous!
These morning symptoms and sensations are unfortunately regular anxiety flare-ups that I am just going to have to deal with as best we can.
So here's what I do that has become my morning anxiety hack.
My morning anxiety hack
I lay in bed and deepen my breath. I try to be as calm as possible through the stomach cramps as I thank everything and everyone I can think of in my head.
Thank you for this comfortable bed. And this fuzzy orange dog.
Thank you for this wonderful husband. And this glass of water on my night stand.
Thank you for this lovely Matisse print hanging on the wall. And for walls and a home!
Thank you for this sky and perfect amount of cloud coverage.
On and on and on until the panicked "I think I'm gonna be sick" feeling dissipates.
This morning anxiety hack takes longer some days. And some mornings (fine, most mornings) I am reciting these gratitudes with the most annoyed, pained, and begrudging attitude imaginable. But I do it anyway until it works.
And it works.
Do you experience morning anxiety? How do you cope with and manage it? Let me know your experience or your own morning anxiety hack in the comments below!

Like this post? Share it!