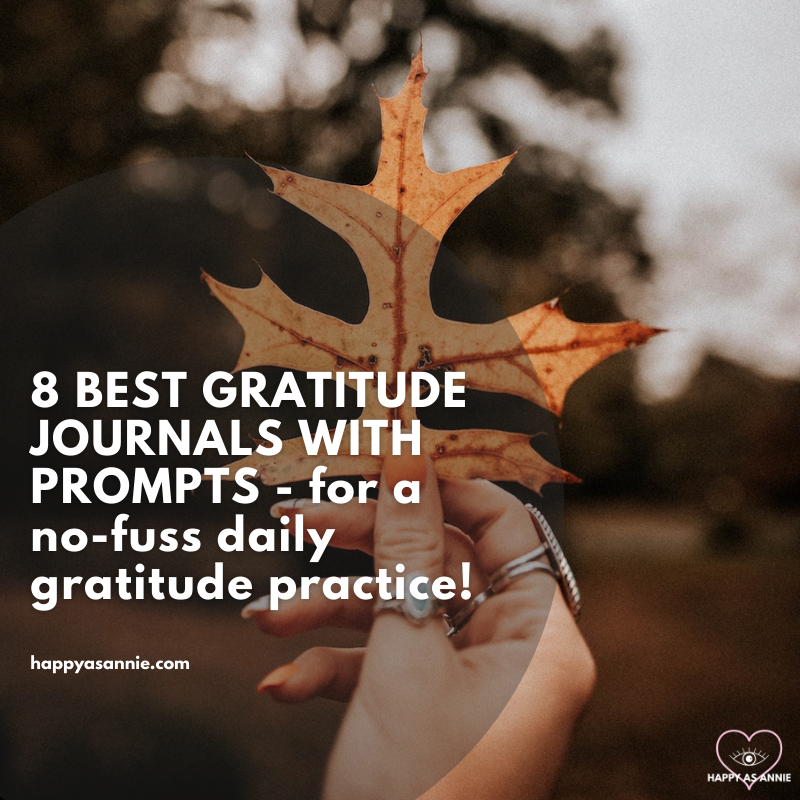 [This post contains affiliate links, which means that I may earn a small commission at no extra cost to you if you follow one of my links and make a purchase.]
My sister bought me a gratitude journal with prompts for Christmas a few years ago and I loved it. She knew I was in therapy and struggling with mindset and keeping my depression and anxiety under control. And the gratitude journal was not only thoughtful and oh-so-me, but a gift that kept on giving for months to come as I filled it out each day.
Since November is the month of gratitude, I've gathered eight of the best gratitude journals with prompts that will help you (or a lucky gift recipient) incorporate a no-fuss daily gratitude practice into your life.
Check them out below.
Why you need a daily gratitude practice
As much as some of us hate to admit it, our experience of life depends largely on our mindset. Those with a negative or lack mindset will be unhappy no matter how wonderful their external circumstances. And those with a mindset of gratitude and abundance can thrive and find joy no matter what life throws at them.
Psychological research shows that cultivating a habit of gratitude fights negative emotions like frustration, envy, and even depression.
It also improves self-esteem because it reduces social comparisons. This is especially crucial in a world of social media highlight reels that can find us feeling bad about our perhaps not-as-Instagram-worthy lives! Gratitude combats that though.
A regular gratitude practice can also improve mental health as it can decrease the effects of stress and trauma.
If you're still not convinced, check out this article by Psychology Today for even more benefits of a daily gratitude practice.
(Related: 4 Reasons to Stop Complaining Right Now)
But who has time for a daily gratitude practice?
I get it. You're busy and don't have time to keep a diary or meditate or add some cheesy touchy-feely routine to your day, right?
I'll spare you a lecture on how important self-care, mental health, and being comfortable with your emotions is. Instead, I will say that a daily gratitude practice takes just a few minutes at first, and then? Our brains become hardwired over time to automatically feel gratitude as often as we can. This means an attitude of gratitude becomes part of your personality and you hardly have to carve out time for it at all.
And although I like to write (just a few lines or several pages – whatever works that day!) as a daily meditation practice, a gratitude practice doesn't need to be complicated. A few minutes of pause for thankfulness is all that's necessary to completely change your perspective, your brain, and your life!
How a gratitude journal with prompts can help
Here's where a good gratitude journal with prompts comes in.
As a writer and an English professor, I know how daunting staring at a blank page can be. But as soon as there's a question or prompt in front of you and you are given the freedom to just blab, with no judgment, stuff comes pouring out that you didn't even know was in your head! That's the magic of a good prompt. Guidance, inspiration, a helpful little nudge to get your gratitude juices flowing.
So, of course, you could always just bust out a blank notebook or your iPhone or tablet and write down three things you're grateful for every morning before you start your day. But in case you need that nudge and bit of structure and inspiration in your life, I've put together this list of the best gratitude journals – all with prompts.
Find the perfect gratitude journal for you
This list of gratitude journals starts with the most involved journal (questions, prompts, AND coloring pages to aid in your mindful reflection). It gets lower and lower maintenance until the final journal, a one-minute gratitude journal. Because aint nobody got time, am I right?
Here we go!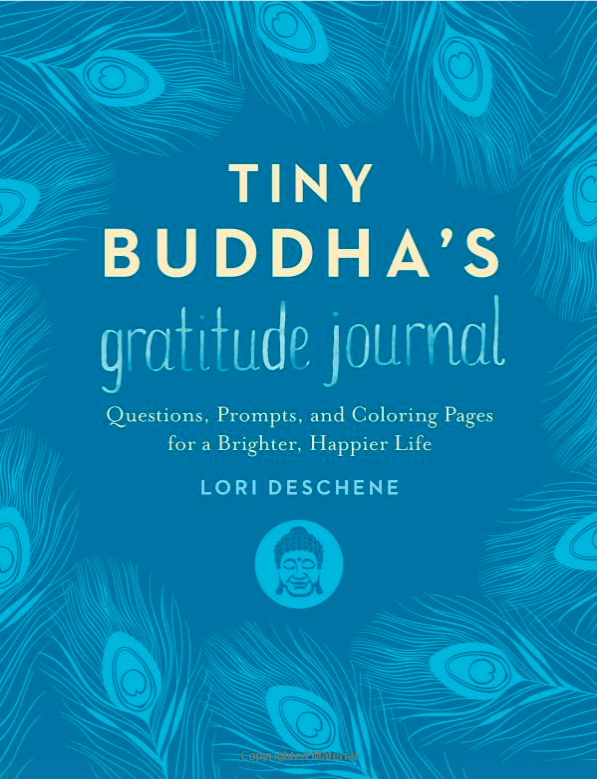 This beautiful hard cover gratitude journal includes fun and thought-provoking prompts to help you reflect each day. Sentence starters like "Though they're not  perfect, I appreciate that my family…" and "I'm grateful that I am healthy enough to…" challenge you to gain some perspective and get creative with your gratitudes.
This pick also has 15 coloring pages spread throughout the journal, so it's a more immersive, creative journaling experience rather than a straight gratitude diary.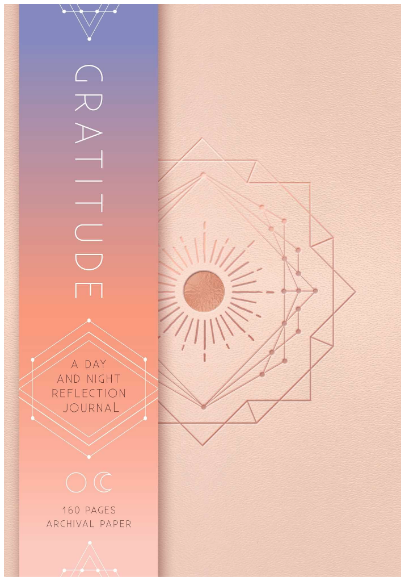 This gratitude journal's beautiful rose gold foil is probably my favorite cover of all the picks on this list. This journal asks you to check in twice a day: it has spaces for morning meditations as well as evening reflections. So it's not the most low-maintenance journal on this list.
You get 90 days' worth of pages in here.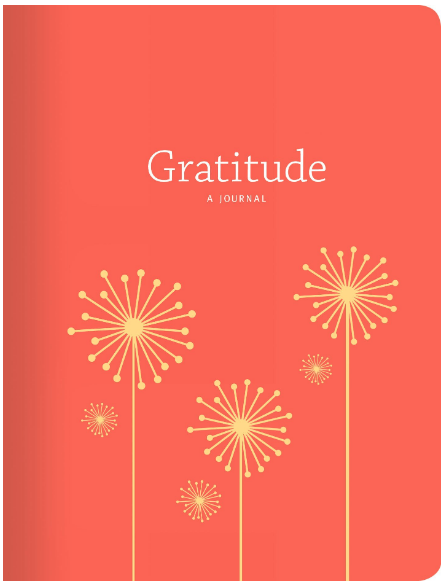 This was the first gratitude journal I ever bought. It's a small hardback diary, perfect for tucking into a bedside drawer or nightstand. It's front pages include some inspirational instructions as well as a further reading list on gratitude and happiness (which, if you're a nerd like me, you can excitedly tackle one at a time).
While it has 365 pages, it's not dated so you don't have to worry about missing a day.
What I loved about this gratitude journal because I love self-care advice and inspirational quotes is that the pages vary from just blank lines for your gratitudes to inspirational quotes to self-care advice. Here's the guidance on the bottom of one of the pages to give you an idea:
"SAVOR SOMETHING – stay in the shower for an extra few minutes, or take a moment to appreciate the smell of your morning coffee before your first sip. Try to elongate the pleasant moments of your day, no matter how small."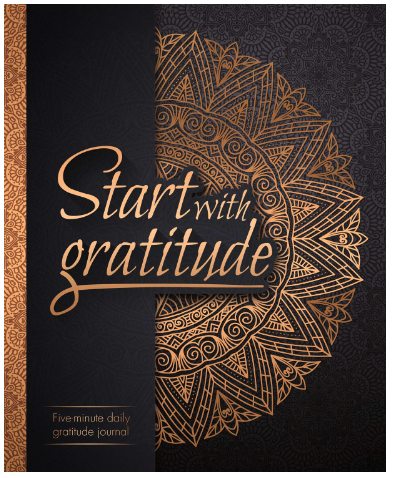 Similar to the third pick on this list, this gratitude journal has space for morning and evening reflections each day. Again, while being asked to journal twice – even if it's just for a few minutes – sounds too ambitious, this journal is also undated so you don't have to feel bad about leaving blanks for skipped days.
While some days prompt you to simply write what you're thankful for, other days change things up: "Silly things that happened today" and "Music I enjoyed listening to today," for example.
The gold mandala motif on the cover is also quite striking.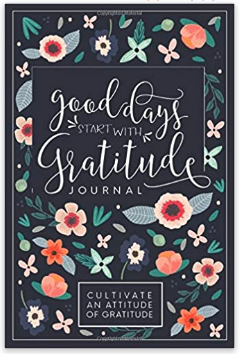 If you like some color in your life, this beautiful cover gives me some serious Rifle Paper vibes!
Also undated, this gratitude journal is laid out in a weekly format. At the start of each week, you have an inspirational quote. Then you get lines for three gratitudes per day for seven days. The next week's spread starts with a different inspirational quote. Here's one by Oprah that they include that's one of my faves:
"The more you praise and celebrate your life, the more there is in life to celebrate."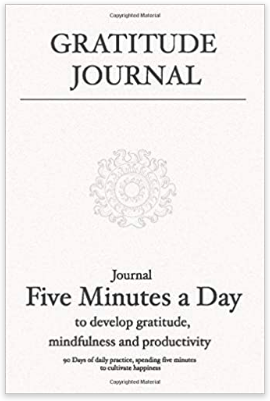 Alright, we are approaching the bottom of our list, which means some seriously no-fuss gratitude journals.
This pick is the most simple and minimalist design. The reason it's not lower on the list is because it, like some previous ones, has morning and evening prompts. You set intentions in the morning and reflect on the progress you made at night. I like that set up a lot actually.
It also has some fun extra pages, like a habit tracker page and monthly planning pages to write down your longer-term intentions.
The reason it's so low on the list? Five minutes a day and you're done, my friends!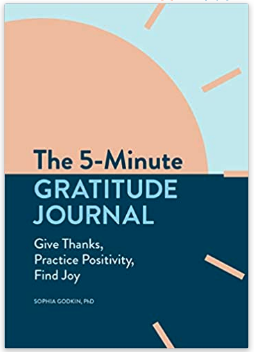 Here's another five-minute gratitude journal, but this one's got color pages for those who want something a bit brighter.
Each day 's page offers an inspiring quote followed by a few fill-in-the-blank prompts like "A new door that opened for me recently…" and "A quality of one of my closest friends that I absolutely love…"
I like this one because it's designed to be done in just five minutes for super busy people, but it pushes you past listing the same three gratitudes every day. Mine, for instance, would probably always be "My husband, being able to work from home, my health" or something wonderful but pretty uninspired after awhile.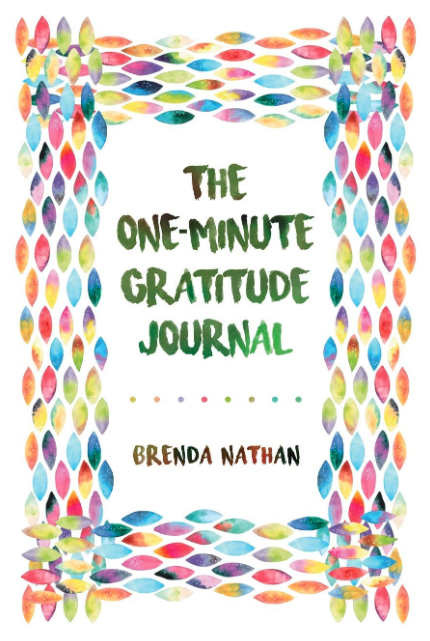 And finally, in case you thought a five-minute daily practice couldn't be beat, we have the ONE-MINUTE GRATITUDE JOURNAL!
Lest you think you are not being offered any inspiration, this journal includes an inspirational quote on each page as well. However, it offers no prompts or questions for you to mull over. It just gives you several lines for each day to jot down your gratitudes. It doesn't even number the lines, so you can harp on one really juicy gratitude or list as many as the size of your writing allows in that space. Whatever floats your boat.
Let me know in the comments below which of these you decide to get for yourself or as a gift for somebody this holiday season.

Like this post? Share it!