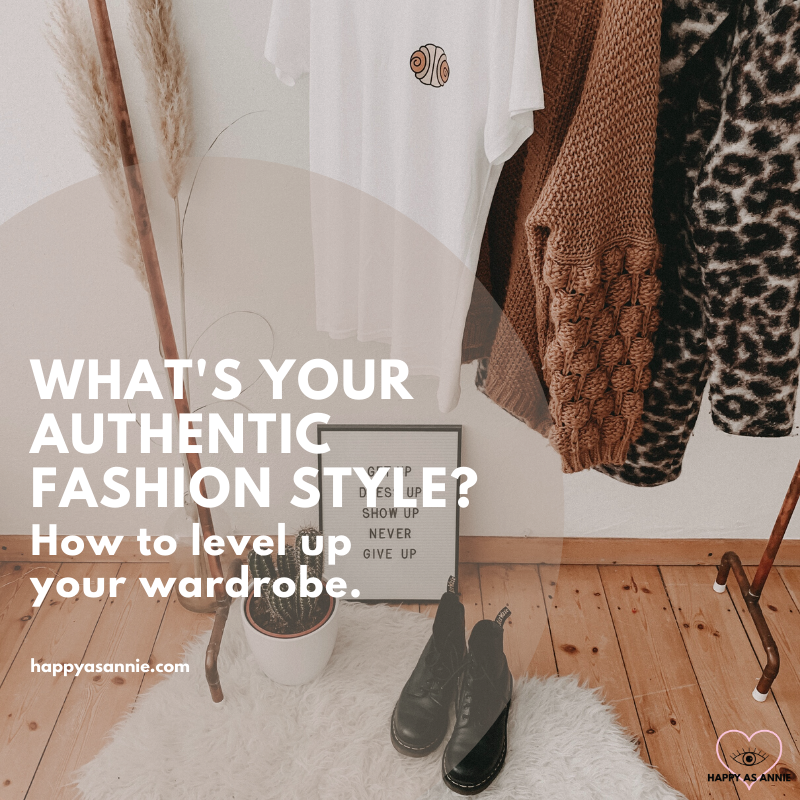 [This post may contain affiliate links. This means that I may earn a small commission at no extra cost to you if you follow one of my links and end up making a purchase.]
Does your wardrobe reflect your authentic style? How can we make our clothes work for us physically but also mentally, emotionally, and spiritually?
In this post, I show you how to discover your authentic style and build a wardrobe that helps you be the best version of yourself.
Sorry, the first step is NOT shopping! It's visualizing.
Like many things about us, the clothes we wear express who we are. Sometimes more accurately than others. I think that our wardrobe can be a powerful and fun tool to help us live an authentic and aligned life. One in which we are comfortable with and indeed celebrate who we are as well as who we strive to be.
So, when I feel like I'm in a style rut, I take a few moments to really discover what my authentic style looks like.  How do I do this? I envision my best self. When I visualize my best self, doing my dream things in my dream spaces, what am I wearing? What clothes make me feel empowered and comfortable and most like my best self?
Meditate on this. Journal about this. Get really clear and excited about your dream wardrobe.
Imagine your authentic best self. Not some costumed character you think you should be.
I've always loved fashion, but I spent many years dressing up for a "part," and not my authentic self.
For example, I spent years dressing up "lawyer Annie." (In case you don't know, I was an intellectual property litigator for about three years before I switched careers and became an English professor and blogger.)
I then spent a short time dressing up wannabe indie rock starlet Annie. (Littler known fact about me: I was a lawyer by day and keyboardist in my husband's indie rock band by night.)
Talk about identity crisis! I never felt myself at either of these gigs. Aside from maybe one killer designer skirt suit that made me feel like a million bucks, at court appearances I felt like a little kid wearing my grandfather's clothes for a school play. And I never quite figured out what to wear on stage, probably because I felt so out of place and awkward among a bunch of career musicians. I never got either "look" right. And that was why. They both involved contrived "looks" that I thought I should be striving for.
But finally, after I discovered Martha Beck's "shackles" test and other inner work practices for connecting to my authentic and best self, I dropped the lawyer act, dropped the rock star act, and grew into my true self: Writer and educator Annie. Creative, intellectual, and spiritually curious influencer Annie. Fashionable, elegant, vintage-loving, just a little bit quirky Annie.
You need to get in touch with this true version of yourself because that is who you are dressing! Once you have this best version of your authentic self in mind, you can build a completely you and totally empowering wardrobe.
That's how you discover your authentic style.
Next, organize your vision into a more concrete visual plan using Pinterest.
I've said it before and I'll say it again. My first step in virtually every project is to create a Pinterest board.
You've honed in on your authentic style now. So, with the image of your true, authentic self in mind, create a Pinterest board that embodies what you are imagining. If you have clothes and outfits pinned elsewhere, go through those and add them to this new board. Then, do some searches or just browse Pinterest and your favorite fashion blogs for looks that you love and that resonate with your best self.
Pin everything. You may have style icons you love. Do a search for their style and pin your favorite outfits. You may have brands you already know you love. Get on their websites and pin what you'd put in your shopping cart. If you have favorite colors or textures, throw those onto your Pinterest board as well. All of these strategies will help you discover your authentic style.
Below is a peek at my current style board on Pinterest, which is a pretty accurate reflection of my authentic style. Click here to see all of it. Who knows? It might even give you some ideas for your own board!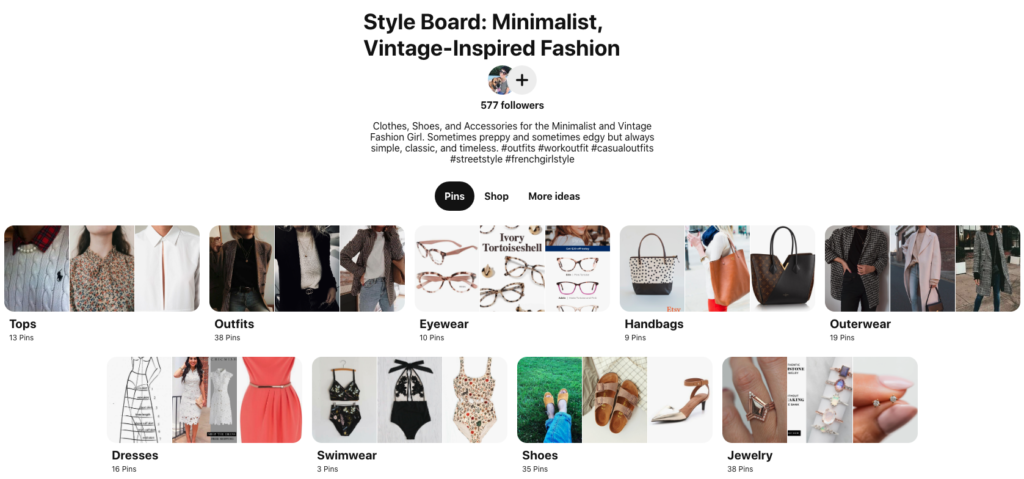 Now, notice repeats and trends. 
Once I have a bunch of images pinned to my virtual style board on Pinterest, I peruse the photos and take note of similar elements, colors, or patterns that keep coming up. If you take your time to curate this Pinterest board, you may even end up pinning the same image more than once without realizing it! Take note of those repeats because that's exactly what lets you hone in on the pieces that will make your authentic style a reality.
My Pinterest board, for example, has a lot of boxy, menswear-inspired outerwear.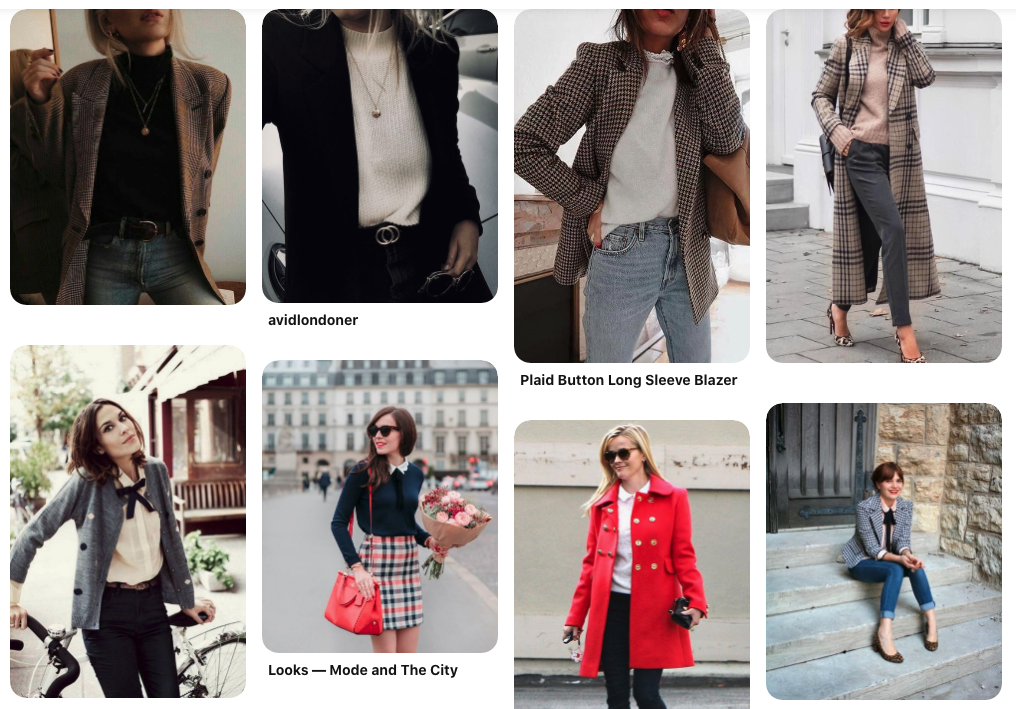 I also am pretty obsessed with delicate, stackable rings apparently.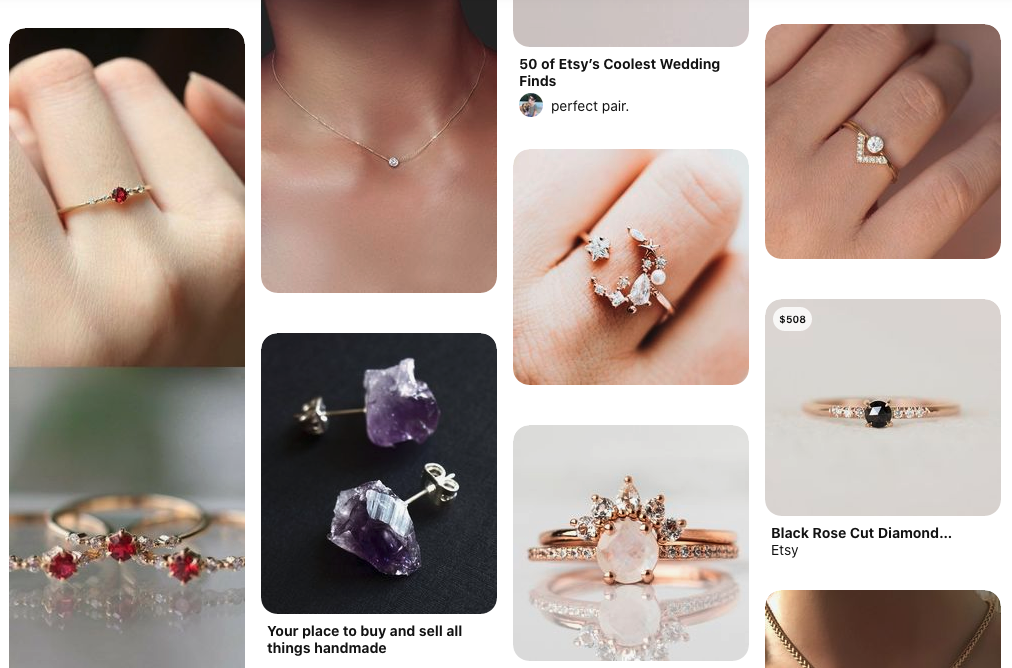 What exactly does this new-and-improved me wear every day, according to my Pinterest board? What precisely needs to be in my closet for me to feel like my clothes reflect my authentic best self?  Your Pinterest board will help you answer these questions in a methodical and organized way.
Then, make a shopping list!
I know, I know. We're still not shopping! But we're getting close. Every successful shopping trip starts with a list.
In the previous step, you likely came up with a list of your observations from examining your Pinterest board. My list from discovering my authentic style would look, in part, something like:
skinny jeans
boyfriend jeans
stackable rings
boxy outwear
mules
tortoise shell glasses

Time to go shopping!? Yes, but in your own closet first! 
Now I'm just torturing the shopaholic in you, I know.
But first, now that you have discovered your authentic style, you need to go shopping in your own closet. How does one "shop" the clothes one already owns, you ask? It's really similar to what you probably do before grocery shopping. You have a list or ideas of what you need, and you first look at what you already have in your kitchen so you don't buy unnecessary repeats. Same idea!
Let's take my list as an example. I love my jeans, both skinny and baggier fits. When I look through what I already own, I have a lifetime supply of skinny jeans. So I know NOT to buy any more skinny jeans! I already have several pairs I love.
Another item that I saw over and over again on my Pinterest style board was mules, especially suede or faux-suede ones. When I look at my current closet, I realize that my current pair of Loft mules are almost  completely worn out. I love these shoes because they are essentially slippers (for when I am lazy) but they look classy as hell (so people don't think I am lazy). Since these are almost done for, I make a note to check Loft for a similar style or start looking elsewhere for a replacement. Maybe even a couple different colors.
Sell, donate, or throw out items that do not reflect your authentic and best self.
If you're like me, once you discover your authentic style,  you'll notice a bunch of clothes that no longer make sense in the ideal wardrobe you have curated for yourself. What do we do with those things? We channel our inner Marie Kondo and just get rid of them.
If I have high quality, barely worn items, I try to sell them at clothing buy-back stores like Crossroads Trading Co. Otherwise, I donate them to charities like Out of the Closet. And sometimes, if it's a ratty old thing from god knows where, I just throw it out or turn it into a rag for bathroom cleaning or something. Do what feels sustainable and responsible for you.
But whatever you do, don't keep clothes in your closet that do not reflect and inspire you to embody your true authentic self. They may be comfortable, sure, but if they didn't make it into your vision and your representative Pinterest style board, ask yourself what's going on.
For instance, I went through a period where I was so drawn to pinks and teals and tiny elegant florals. When I looked in my closet, though, I was overwhelmed by gray, black, and army green. I realized that I was trying to paint this dark, tough exterior in the clothing I was choosing because maybe I felt silly or too vulnerable or sensitive in the soft colors I was really drawn to. That was a huge revelation for me!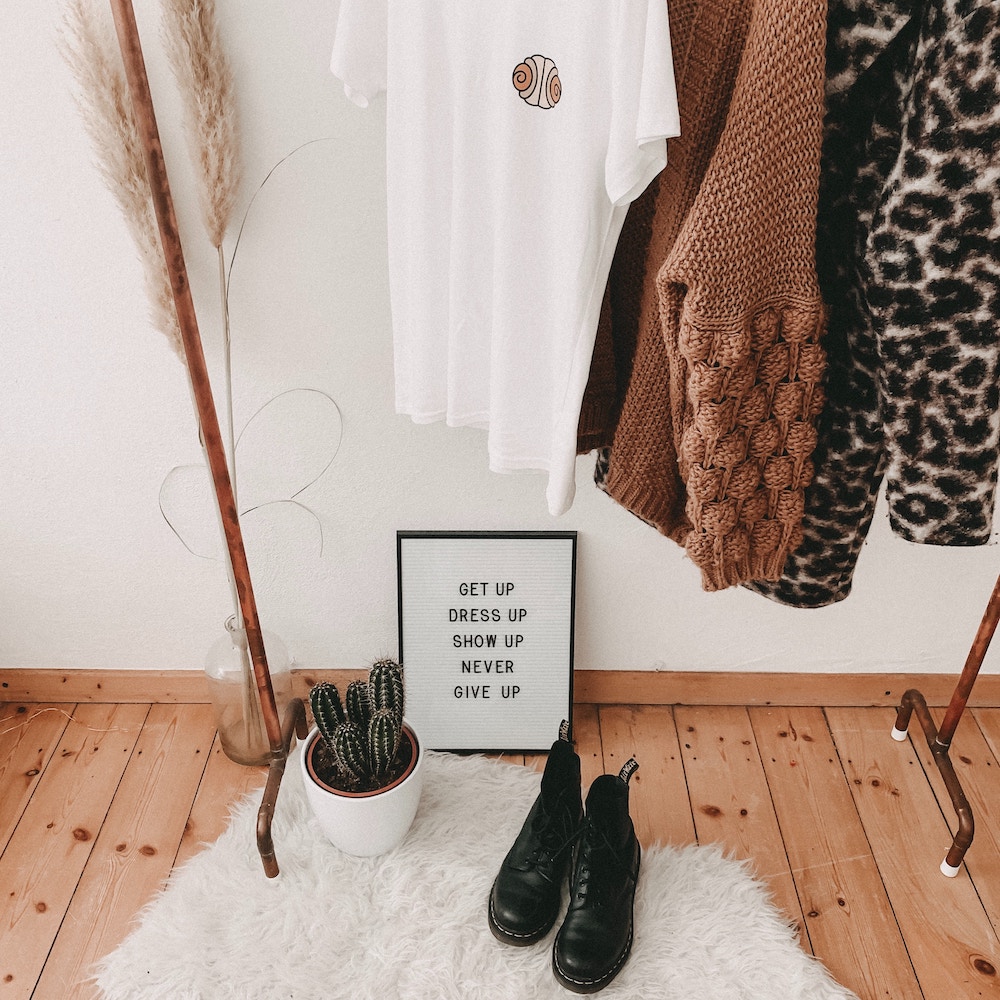 Don't guilt yourself into wearing uninspiring and uncomfortable purchases that do not support your best life. We unfortunately have enough distractions and miserable things happening in the world to zap our motivation and high vibes. I don't let my closet contribute to that bullshit.
Now, let's finally do some shopping!

The reason I wait so long to shop is because I don't have infinite resources to throw away. So, I want to make sure that I'm spending my money wisely and staying true to my vision. That's why visualizing, creating a Pinterest board, and taking stock of what I already have are essential steps for me. These steps prevent me from buying a bunch of adorable items that I don't really need or don't really go together.
Once you are clear on your authentic style, shopping for clothes will be much easier!
These steps also prevent me from falling into old patterns of buying that don't reflect my true and authentic self. For example, maybe your Pinterest board is full of bright jewel tones and fun and funky retro prints because this reflects your bubbly and optimistic personality. However, maybe you're used to rejecting loud prints and color because your mom or some fashion magazine told you to camouflage your curves with navy and black shades. F*CK THAT SH*T is what I say to that. Notice and reject inauthentic and fear-based buying patterns that are limiting you. Fashion is our way of showing others (and ourselves!) who we are and who we strive to be. It's not the most important thing in the world by any means, but I don't believe it's entirely shallow and superficial either.
Let me know if this guide to discover your authentic style helped you level up your closet. I'd also love to hear what you wear to feel your most true and authentic self.

Like this post? Share it!