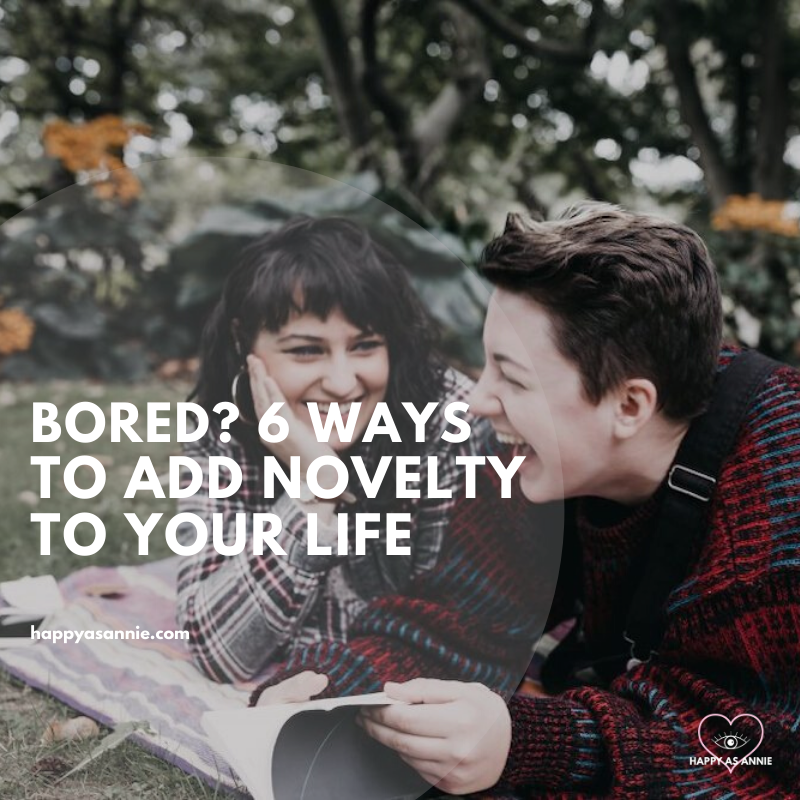 [This post may contain affiliate links. This means that I may earn a small commission at no extra cost to you if you follow one of my links and end up making a purchase.]
Some weeks, the monotony of Covid-19 life seems too much to bear. And now, facing our second wave of lockdowns, being bored in quarantine is still a very real and pressing issue.
If you are as bored in quarantine as I am, here are six simple ways to invite more novelty into your life without breaking social distancing regulations.
1. Do a new activity in a familiar place.
Got a usual (and now entirely uninteresting) spot you frequent? Make it interesting again by doing a new and different activity there.
For instance, I live on an adorable little street that cul-de-sacs into a park along the LA River. When I realize I haven't left the house in, like, 3 days, my husband and I will walk down there with a little blanket and just lay in the grass and chat. We might take some sandwiches or beverages if we're feeling particularly ambitious.
But even that park is getting so boring to me now! What to do?
What if I were to do something I've never done there before? Suddenly it would take on a new feel. What if we took a frisbee or a football? (LOL at me owning a football, but you get my point.) What if I took my yoga mat? Or a sketchbook?
I would get an entirely different experience without even going anywhere new.
2. Take someone along somewhere you usually go by yourself.
Doing things alone versus with others completely changes the experience. Just think back to your school days. Having a friend in your class made it an entirely different experience, didn't it?
We can apply that same rule as a solution to being bored in quarantine.
For instance, if you usually jog by yourself in the afternoons, what if you went for a (masked and safely distanced) power walk with a friend instead?  You've both got to exercise but now it's also a social activity, which is also crucial during this time of isolation.

3. Fly solo.  
This solution to being bored in quarantine is the opposite of the previous one. Take an activity or outing you usually do with someone else, but do it by yourself. Again, it will totally change the experience and infuse some novelty into the humdrum routine that is Covid life.
For me, taking morning walks by myself was a complete game-changer to my daily routine. I'm sure all my fellow dog-moms will feel me on this one. Once you have a dog, ain't nobody going for no walk WITHOUT the dog, am I right? But that's where we are wrong.
My every venture outside centered around my dog. Making sure he wasn't pulling or peeing on something inappropriate or eying a squirrel too closely or about to roll around in fertilizer. I'd constantly scan for neighbor dogs or delivery men. If you have a big dog, you know the drill.
But for a time, I went on morning walks BY MY LONESOME and it was an entirely new experience. Yes, even a walk in my own tired neighborhood, up and down the same streets I frequent very day, was an entirely foreign activity when I could go at my own pace, without a bag of poop in my hand, and without the constant threat of my 75-pound boxer being spooked and hauling my ass down the street after a stray cat.
Fly solo and see the world from an entirely different perspective.
4. Go to a daytime spot at night.
There's a scene in Woody Allen's Midnight in Paris where one of the characters says people will never stop arguing about whether Paris is more beautiful during the day or at night. I'm not about to weigh in on that particular argument (although if you have an opinion, let me know!), but the magic of night can transform any location.
So, for a very simple way to invite novelty into your life to beat quarantine boredom, try going to a daytime spot at night.
My husband and I have driven to the beach at night at least twice now. The first time was to try to catch some bioluminescence action, and the second time was just because I was feeling down and needed to do something–anything out of the ordinary.
The beach is completely different at night. You dress differently and pack differently. The view is different, the ambience is different. And that makes you think different thoughts and have a whole different set of conversations than you'd probably have if you were laying out in the sun.
This reminds me of how different it was to be at school on a Friday night for a football game or a dance. The air was electric with novelty!

5. Go to an evening spot during the day. 
Of course, the flip-side of the previous tip is also true. It's equally cool to go a regular evening spot when it's still light out.
Are evening spots a thing since coronavirus? I'm not sure. I'll give you a pre-Covid example though, just to be thorough and in case you are reading this at a time when things are lively and open again.
There's a music venue and bar, Zebulon, that's walking distance from where I live. We used to go catch a cool band or just get some drinks after work with friends some nights. But on weekend mornings, they'd have a flea market in their parking lot, and it was so weird to be there in the bright ass sun on the way to brunch, you know?
It was an entirely different activity, even though it was the same exact place.
6. Search the web for events in your area.
Were it not for my husband's web search, we would not have known that indie drive-in movies are totally a thing now in southern California thanks to the movie industry freaking out and people like me suffering from new levels of Covid boredom that Netflix cannot cure.
(If you are staying in, click here for the 6 best witchy shows to binge-watch on Netflix right now.)
Google is your friend. Try it right now. Do a search for "things to do in [name of your town] right now" and let me know what you find!
How are you fighting boredom in quarantine? Share your tips in the comments below!