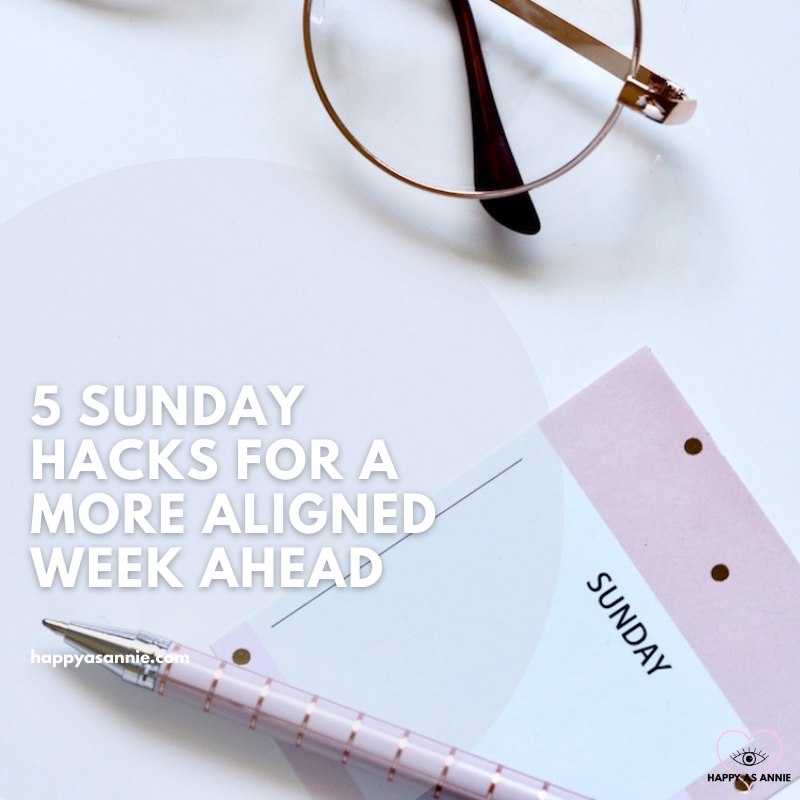 [I am a proud affiliate of Bookshop.org and this post may contain affiliate links to some of my favorite books. This means that I may earn a small commission at no extra cost to you if you follow one of my links and make a Bookshop.org purchase.]
Why do we need Sunday hacks? Because the Sunday Scaries are real, my friends.
This term refers to the sense of dread that sets in right as the sun does on Sunday evening. It's your subconscious (or quite conscious, for some of us) fear response to all the responsibilities of the week ahead. It's the grieving of the weekend that is now but a memory.
So what can we do about it? Here are 5 Sunday hacks that will help you feel aligned all week.
5 Sunday Hacks for a Smoother Week Ahead

1. Do a brain dump.
The leader of my Sunday hacks is the weekly brain dump.
I learned about brain dumps, or mind sweeps, from David Allen's Getting Things Done. Allen is a productivity guru who champions getting everything out of your brain and onto paper.
The theory behind Allen's method is that if something is on your mind, you are wasting energy and cultivating unnecessary stress or anxiety trying to remember it. He suggests weekly brain dump sessions where you take out a piece of paper and simply list anything and everything that you need to get done that is weighing on your mind. Your brain dump, or mind sweep, list might look something like:
Visit grandma.
Call back gastroenterologist.
Buy dog food.
Learn Spanish.
Move to London.
Buy more hair product.
Contact sponsor about blog post.
Update Pinterest profile.
Record lecture.
Look into transcendental meditation.
See? I mean everything that's floating around in your brain, whether it's a mundane task (buy dog food) or a lifelong dream (move to London), gets written down. That way, you get it out of your head and off your mind so you can relax a bit more.
My brain dumps are sometimes pages and pages long! And there's a sense of relief and accomplishment that comes with it because now you know that all those to-dos are written down somewhere and won't be lost in the abyss that is the human mind.

2. Calendar your priorities.
This next Sunday hack dovetails nicely from the previous one. Take a look at your brain dump list, your emails, existing calendar, texts, wherever you get information from the outside world, and calendar your priorities for the upcoming week or month.
While we all probably have more things we need and want to get done than we will ever have time to complete, there are certain things that absolutely must get done in the coming week. So make sure you clearly mark those on your calendar or in your planner. This gives you a sense of ease because you see the rough landscape of the week ahead and know what's coming. Preparation is the number one way to get rid of nerves and stress.
One extra note I have about this is not to give in to the urge to calendar all sorts of to-dos and tasks on certain days of the week just because you'd like to get it all done. That's not realistic and it will actually take away from the urgency of the tasks that do need to get done in the coming week.

3. Meal plan and make a grocery list.
Another of these Sunday hacks that my husband and I have made a habit is meal planning and ordering our groceries online. I actually hate meal planning but it has to get done so I might as well get it done Sunday before the work week starts back up again.
Why do I hate it? Well, I know it's a pretty unpopular opinion but I don't really like to eat. Food gives me anxiety and having to repeatedly stop my day to eat stresses me out quite a bit. (I'm working on it!) But you don't need to be that extreme to recognize the benefit of planning your meals and making sure you have all your groceries for the week. You're going to have to eat anyway, and how annoying to have to brainstorm every single night and possibly end up spending more time and money ordering out because you have no meals planned for the week.
Save yourself time and money by setting aside a little time on Sunday to meal plan with your partner or family. Ordering groceries on services like Instacart also changed our lives (we did this years before the pandemic made it even more of a blessing). It frees up so much time! That way we're not wasting our weekend grocery shopping and we're also saving time during the week because it's all taken care of already.

4. Start a fun Sunday night ritual.
The best way to combat doing something you hate is by piggy-backing something you love onto it. So, since Sunday evenings bring so much dread with them to so many people, have something exclusive to Sunday nights to look forward to.
This used to be Game of Thrones viewing parties for me. It also used to be Sunday night dinners with my parents and sister's family. In a social-distancing world though, it looks like popcorn and movie nights at home or saving the Sunday crossword puzzle, one of my favorite things to do of all time, for after dinner. If you're the pampering type, maybe save bubble baths or foot soaks for Sunday nights only. That way rather than dreading the end of the weekend, you actually can't wait for it!

5. Go to bed early.
My final Sunday hack for a more aligned week is to go to bed early. A lot of people try to milk every last minute of their weekend they can because they are so sad to see it go. But how does the Monday morning version of you feel about that decision?
So, consider your future self and turn in early on Sunday nights. Do something relaxing like reading a not-too-exciting book in the tub or listening to some calming music in bed to put your mind at ease and slow down your thoughts.
Whatever I can do to increase the chances of a successful Monday morning is worth it!
2 Long-Term Solutions for the Sunday Scaries
Now, I just want to point out that these Sunday hacks by definition are quick and easy short-term solutions. And, as is so often the case in life, especially living an authentic and aligned life, there are no quick and easy solutions. And so, I feel like I would be remiss not to mention two longer-term solutions to the Sunday Scaries that may hint at some deeper causes of your weekend woes.

1. Take back your weekend.
When you've had a marvelous, fulfilling weekend, you can bask in its splendor and relish in the feeling of a weekend spent nourishing your soul and connecting to what matters to you.
Are your weekends spent that way? Are you using them as a break from the work week? As a way to take care of yourself and do what fills your cup so that you can start the coming week rejuvenated and aligned?
If the answer to this question is yes, skip to the next solution.
If your answer was a big fat "Yeah right, bitch, on what planet!?" then your Sunday Scaries are likely caused by a weekend that isn't yours.
What do I mean by a weekend that isn't yours? Maybe you spend your weekends running all the errands you couldn't get to during the week because you work so hard. Maybe you spend your weekend visiting family and friends you don't really care to see but feel obligated to spend time with.
If that's the case, your Sunday Scaries may be caused in part by feeling cheated and resentful that another weekend in your life went wasted. Weekends are precious after all, and how terrible to give yours up to the needs and wants of other people.
You deserve your weekend. So my long-term solution is to take it back. This could mean various things to various people. It might mean budgeting to get some help during the week (a home cleaning service or a grocery delivery service perhaps) to lighten your load over the weekend. Or telling your in-laws that weekly dinners are too frequent and you'll have to switch to every other week. It might mean getting your sleep schedule on track so that you're not spending half your weekend sleeping in and then feeling bad that you don't have enough time to do what lights your soul on fire.
Something to think on. You know yourself best.

2. Quit the job you hate.
And finally, the dread that settles in every Sunday evening might mean you hate your job. Now this reason is more obvious to some than others. I knew I hated my job as an attorney. It didn't take a rocket scientist to tell me that. And once I quit my job and began a career that was much more aligned with my higher self, my Sunday Scaries all but disappeared.
But our brains are sneaky bastards. So there are some of us out there who may not realize we despise our jobs. We may think we are doing what we have always wanted to do and are too lucky to complain about our work. And yet, Sunday night rolls around and you want to crawl into a cave and never come out.
If this is you, I'm not saying quit your job this instant and give up your health benefits in the middle of a pandemic. But it's something to think about. And now that I've planted the seed, guess what? If your intuition knows leaving your job is the right move for you, it will nudge and hint and provide beautiful little signs until you do in fact decide to do something about it.
Don't you worry.
Which of these Sunday hacks do you think will help you have a more aligned week? Do you have other Sunday hacks you'd recommend? Let me know in the comments below!

Like this post? Share it!